« Obituaries | Elda Jacqueline Wild
Elda Jacqueline Wild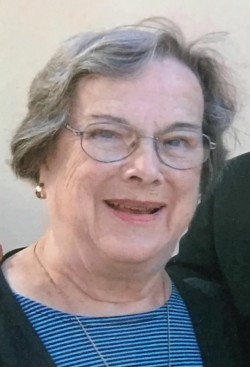 Date of Death: September 8, 2015
Date of Birth: July 19, 1928
Biography:
TOPSHAM - Elda Jacqueline Spaulding Wild (Jackie) passed away Sept. 8, 2015 at home at Cadigan Lodge in Topsham, ME.
She was born July 19, 1928 in Stroudsburg, PA to Glen Aubrey Spaulding and Myra (Mitchell) Spaulding. Myra was a TB survivor and Glen was a decorator at heart who worked with Spencer Kellogg and was one of the first civilians to fly one million miles.
The family moved 18 times before Jackie's 24th birthday, often residing in the Buffalo, New York area. She was the apple of her father's eye and her brother Douglas was her best friend with whom she shared a love of dancing and motorcycle riding.
She graduated from the University of Baltimore as a medical secretary in 1948. For over three decades, Jackie was dedicated to caring for the congregations for which her husband was a pastor. During this time, she was also a volunteer with the American Red Cross, frequently putting family dinner preparations on hold to assist a serviceman's family.
In the 1980's and 90's, she worked the night shift for LL Bean in the mailroom and for Neighbors, Inc. in Brunswick, where she continued her love for helping people.
In 1988, her two sons built her a home on Douglas Street, where she resided until her move to Cadigan Lodge.
Jackie enjoyed sewing, baking, knitting and reading – activities that she shared with all her grandchildren, who knew her as Grandma Jackie (GJ). She loved her work at LL Bean, and she continued to attend retiree exercise classes there for many years; she also loved family shopping trips to the big store in Freeport. She satisfied her wanderlust by traveling to Scotland and Wales with the First Parish Church choir and by traveling with family in the United States, Paris, England, Japan, and Canada.
She was a faithful and active member of First Parish Church in Brunswick for nearly 50 years; membership in her covenant group was the core of her spiritual life and founding the prayer shawl ministry was tangible evidence of her caring nature.
Family summers included month long vacations (translate rustic) in Webster, NH where she made lifelong friends. She was a Bowdoin International Music Festival Student host which expanded her international friendships and she had season tickets to MSMT productions for many years. She approached her move to Cadigan Lodge in 2009 with the same spirit of adventure and nesting that was typical of her resilience and she immersed herself in this new community, frequently leaving dishes of candy for the nurses! We will miss her prodigious memory, her cheerful greeting when answering the phone, and sitting with her listening to music in her beautiful living room. She was surrounded by family and caregivers who made her last days precious.
Her loss is mourned by Rebecca Wild-Wesley and Tom Wesley, Hannah, Abigail, and John; Peter Wild, Kylie and Eliza Jane; and Mark and Susan (Parker) Wild, Caroline, and Parker. She also leaves her two nieces Pam Ribbeck and Cindy Spaulding of New York. GJ – you will be missed!
A memorial service for Jackie will be held on Saturday, September 19th at 11:00 a.m. at First Parish Church, Brunswick. A reception will follow in the church vestry.
In lieu of flowers contributions can be made in Jackie's memory to the Cadigan Lodge Resident's Assistance Fund, 30 Governors Way, Topsham, Maine 04086 or FlyingKites.org, 51 Melcher St., Boston, MA 02210, USA.