« Obituaries | Joseph 'Joe' Wentling
Joseph 'Joe' Wentling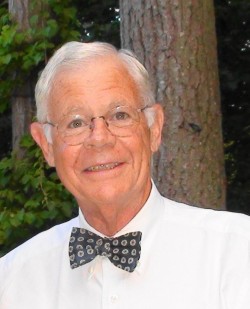 Date of Death: January 28, 2014
Date of Birth: May 22, 1944
Biography:
Joseph DeWalt Wentling III
Joseph "Joe" Wentling, 69, died peacefully at his home in Pownal, Maine on January 28, 2014 after a battle with lung cancer.
Joe was born on May 22, 1944 in Greensburg, Pennsylvania to Joseph DeWalt Wentling Jr. and Dorothy Crouse Wentling. He attended the Valley School of Ligoneer and the Solebury School in Pennsylvania, where he played football. He served his country in the US Army and was stationed primarily in Germany. Among other duties Joe was honored to guard the Eternal Flame in Arlington Cemetery. He attended the University of Denver in Colorado, where he met the love of his life. He and Jeanne "Jan" Knight Wentling were married on June 13, 1970, and moved to Philadelphia shortly afterward. Joe spent his career as a stockbroker in Philadelphia, working first at Dehaven, Townsend, Crouter & Bodine and later at Janney Montgomery Scott. Throughout his life, he was a member at Gulph Mills Golf Club, Greensburg Country Club, Rolling Rock Club, the 4th Street Club, and the Racquet Club in Philadelphia. Though his first love was golf, he also enjoyed shooting sporting clays, skiing, and traveling the world with friends and family. In quieter moments, Joe was an avid reader and was well known by local librarians in Tredyffrin, PA, Paoli, PA, and Freeport, ME.  He and Jan summered on Chebeague Island, Maine throughout their lives, and in 2007 moved permanently to Pownal, Maine to be closer to their children and the Island. Joe loved a good party, never missing a wedding or a funeral. His quick laugh and stories always drew a crowd and he made friends everywhere he went. He will be remembered as a loyal and gentle soul who loved his wife, children and grandchildren more than anything.
Joe is survived by his wife, Jeanne Knight Wentling; Daughter, Polly Fisk Wentling (Kevin) Wentworth of Chebeague Island, ME; Son, Benjamin Crouse (Leah) Wentling of New Gloucester, ME; Four grandchildren, Alden, Olivia, Clara and Amelia; Sisters, Betsy (Patrick) Ring of Baltimore, MD and Dinah (William) Murphy of Mentor, OH; and eight nieces and nephews.
Funeral service will be held at 11am on Saturday, February 8, 2014 at St. Bartholomew's Episcopal Church, 369 Gilman Road, Yarmouth, ME. A luncheon and celebration of life will be held immediately afterward at the Harraseeket Inn in Freeport, ME. In lieu of flowers, please consider a donation to the Freeport Community Library, 10 Library Drive, Freeport, ME 04032 or the Island Commons, 132 Littlefield Rd, Chebeague Island, ME 04017.