« Obituaries | Judith Ann Welch
Judith Ann Welch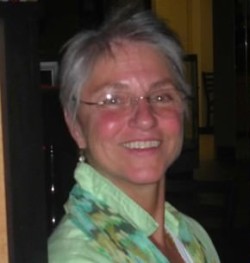 Date of Death: May 31, 2023
Date of Birth: June 21, 1951
Biography:
Judith Ann Welch, age 71, died in her home on the water in Freeport, Maine May 31, 2023 with her partner Jean Ann Cousinow by her side, after a long battle with multiple sclerosis. 
Born on June 21, 1951 in Biddeford, Maine, Judy is the daughter of Margaret and Frances Welch of Kennebunk, Maine.  Growing up in Kennebunk, Judy loved to be outdoors. She was a mischievous child with a witty sense of humor.  
Judy completed her undergraduate studies in nursing at Saint Anselm College in Manchester, New Hampshire. She continued her studies and earned two master's degrees in nursing and eldercare. 
She started her nursing career at the Visiting Nurses Association of Hartford, Connecticut where she met Jean. They lived together in New Britain, Connecticut for many years. Judy and Jean took many trips to Freeport, Maine, looking for a special place to live.  They found the perfect location in a lot overlooking Maquoit Bay.  They then moved to Freeport and built their dream/retirement home. Judy continued working as a home health nurse at Maine Employers Mutual Insurance Company in Portland, Maine for several years before retiring.  Judy's career as a nurse was a distinguished one where she went above and beyond for those in her care, just as she did with all others in her life.   Judy was kind, would do anything for you and always thought of others.  She had a dry and playful sense of humor.  She enjoyed her time on the water–whether in their 16' dory (the Molly Brown) or in her kayak. She loved to garden and create beauty around her home. She loved listening to the birds sing, watching the eagles perch on her shore, and the sway of trees.  She also loved her many cats.  Judy and Jean closely followed the UCONN Ladies Huskies Basketball team and enjoyed their many national championships.  
Judy is predeceased by her mother Margaret, father Frances, step-father Norman Hoff, brother Bobby Welch and niece Belinda Welch Barter.  She is survived by her beloved partner Jean Ann Cousinow; siblings Jeanie Coyne (husband Gary) and Billy Welch (wife Dianne); many nephews and nieces including Shawn Coyne (wife Christine and children Abigail, Fiona and Lillian), Jenny Hopkins (husband Jim and children Chase and Cole), Bradley Welch, Stacy Welch (children Elijah and Alyxis), Melissa Welch (husband Chris and children Kayla, Matthew, Kenneth and Emily), and Jessica Garretson (husband Steve and children Tanner and Austen); and many dear, devoted friends including Peg Cushman, and Sandy and Mary Allen. 
Judy's family and friends will be eternally grateful to the outstanding care team (Cathy Cryvoff, Jennifer Pope, Becky Churney, Meagan Walker, CHANS Home Health & Hospice and Align Home Care Services of Falmouth) that made her wishes to stay at home and be comfortable possible.   
A celebration of life will be held in August at The Muddy Rudder restaurant 1335 US Route 1, Yarmouth, Maine. Details to follow. 
In lieu of flowers, donations may be made to Alley Cat Rescue at www.saveacat.org/donate.html in honor of Judy Welch. 
Godspeed Judy, you will be missed by all of us, especially by me, Jean.