« Obituaries | Alice O. Watkins
Alice O. Watkins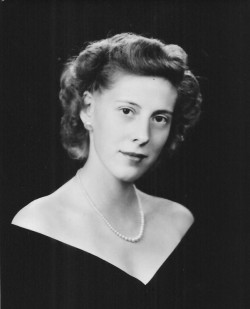 Date of Death: October 3, 2018
Date of Birth: January 15, 1922
Biography:

BRUNSWICK - Alice O. Watkins was born to Earl Edward and Minnie Mae Oswald on January 15, 1922 in Haverstraw, New York. Her family moved in 1927 to Mt. Vernon, New York where Alice attended public schools until graduating from A. B. Davis High School in 1939. Alice continued study at State Teachers College, New Paltz, New York, graduating with a bachelor's degree in 1943.
Alice delighted in recalling some of her girlhood experiences, which were varied, rich, and filled with all of the excitement of a young life near New York City. Each experience left vivid impressions—sometimes unexpected, but indelible. Her chief takeaway from crossing the George Washington Bridge by foot on its opening day in 1931 was that there were no bathrooms. Some years later, her repeated visits to the New York World's Fair in 1939 left her with a sense of wonder and a feeling that the World of the Future wasn't what it used to be.
The Teachers College introduced her to a more rigorous academic routine than she had known before, introduced her to the teaching profession itself, and introduced her to the one love of her life—Albert, a classmate. Through most of her college days, a gathering storm could be heard overseas as angry war clouds thundered in Europe and the Far East. It was only a matter of when before America was forced into the conflicts. And that day came, infamously. Alice remembered where she was when she received news of Pearl Harbor on December 7, 1941: her best friend was married that very day. Soon the men at the Teachers College began leaving campus to join the ranks of the Armed Forces. Their individual exiting seemed haphazard, neither alphabetical, nor seniority-based, the timing of their departure a matter of mystery. Albert was fortunate. He had been selected for Naval Officer training, but his departure for active duty occurred only in the second semester of his and Alice's senior year. The Teachers College granted his degree despite his being slightly short of finishing his course work. Alice graduated on schedule and married Albert in New Paltz in December 1943, after he was commissioned but before he joined his ship in the South Pacific to defeat Imperial Japan.
Alice Watkins in 1944:
Alice spent the remaining war years teaching kindergarten through fourth grade in the two-room Middle Patent School House near rural Banksville, New York. Teaching is what she said she did during this time, but her primary occupations were waiting, hoping and praying that Albert would come home alive and whole. And so he did. In autumn 1945 Alice made the transcontinental railroad journey to California to meet her returning husband in San Francisco Bay aboard his ship, the ship streaming its victory pennants and displaying its battle stars proudly.
Alice and Albert struggled to find housing, as did so many wartime couples, anxious to get on with their lives now that the War was won. By 1953 they had settled in Armonk, New York with their two young children. Alice worked as a kindergarten teacher in Pleasantville, New York for a number of years. Later she directed a Nursery School in Chappaqua.
Alice and Albert lived what might be called uneventful lives, but they knew better, and so did those around them. Their union was electric with joy, each day a new day, brimming with the excitement of sharing love, sharing challenges and sharing successes. To the extent that can be possible, they lived "happily ever after" once the War was behind them. They showed us what marriage can be and what marriage should be—a journey filled with love, a journey lasting a lifetime, and beyond.
Albert died in 2002. Alice is survived by a brother, David, of Ft. Lauderdale, Florida; a daughter, Judith, and son-in-law, Harvey, of Maitland, Florida; a son, John, and daughter-in-law, Gail, of Cundy's Harbor; three grandchildren plus seven great grandchildren, with an eighth on the way.