« Obituaries | Janice Upham
Janice Upham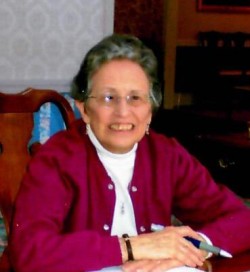 Date of Death: November 29, 2017
Date of Birth: August 14, 1940
Biography:
Janice Upham, 77, of Auburn died November 29, 2017 at CMMC after a short illness.
She was born August 14, 1940, in Lewiston, beloved first child of Edwina (Perkins) and Fergus Upham.  She attended Auburn schools, graduating from Edward Little High School in 1958 as co-valedictorian. She was an enthusiastic clarinet player in the school's marching band.
She received her BS degree in biology from Bates College in 1962. After working for Eastman Kodak in Rochester, NY, for several years, she decided to further her education at Miami University in Oxford, Ohio, earning her MS degree in personal counseling in 1967.
She worked at Bates College in the computer services department for many years.  After her retirement from Bates, she became the weekend receptionist at Hospice House in Auburn, feeling a close relationship with the caring people at the facility, since both of her parents had received end-of-life care there.
She has been a happy resident of Schooner Estates for many years having moved there to be close to her parents so that she could help them as they aged. She was well known at Schooner as an excellent bridge player, hard working committee member, an ardent "tripper" signing up for most of the out of town restaurant van rides, and a friend to all of her fellow residents.
She was a terrific aunt to her nieces and nephew. She always remembered them on their birthdays and was particularly generous at Christmas. She was an avid knitter and for many years she gifted each family member with a hand made sweater.  The Upham family Christmas stockings were all hand knit by Janice.  
She also enjoyed making dozens and dozens of Christmas cookies and joyfully presented them to co-workers, family and friends.
Throughout her life, Janice had many dear cat friends who shared her home and her love.  The most recent were Smudge and Bumbleberry.  She treated them as her family and she would be happy to know that they have found new homes.
Most of the summers of her life were spent in a cottage at Taylor Pond, a favorite spot for simple living with the loons and ducks calling, the water lapping on the shore, and her bare feet squishing in the grass.  
Janice will be missed by her brothers, Tom and his wife, Judy, Jim and his wife, Susan; nieces Gretchen Fleming and her husband Brian, Hannah Upham and her husband John Thiel, Betsy Upham and her husband, Ryan Walker; nephew, James Upham and his wife, Jill; grand nieces and nephews, Andrew, Matthew, Libby, and Abby Fleming, Callan Upham, Seneca Thiel, and Ellis Walker; and many cousins.
A Celebration of Life will be held on December 9 at 10:00AM in the Tenants Harbor Room at Schooner Estates in Auburn.  In lieu of flowers memorial gifts may be sent to Greater Androscoggin Humane Society, 55 Strawberry Ave., Lewiston, ME 04240 or to Androscoggin Home Care and Hospice, 15 Strawberry Ave., Lewiston, ME 04240.