« Obituaries | Mark W. Trimble
Mark W. Trimble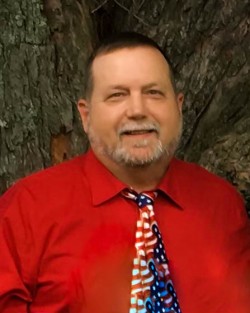 Date of Death: March 26, 2022
Date of Birth: July 19, 1961
Biography:
 On Saturday, March 26, 2022, full of peace and faith and surrounded by his family, Mark Trimble mounted up on eagle's wings and flew into the arms of his Heavenly Father.
Mark was born in Atlanta, Georgia, on July 19, 1961, to Yvonne and Marvin Trimble. He was raised in Georgia and resided there until he enlisted in the United States Navy in 1979. Mark was unapologetically proud to be an American. He served his country faithfully and retired as Senior Chief after twenty-four years of service.
Mark was a man of integrity, a natural-born leader, and a genuinely nice guy who loved unconditionally. His calm demeanor, laid back attitude, wisdom, and uncanny ability to shoulder heavy burdens, made him a refuge for everyone who knew him. He led by example as he walked through life with meekness, integrity, honesty, and sincerity. He was a man who exercised strength under control, and had great faith in God.
Mark enjoyed cooking, shooting, hunting, and spending time with his family. He loved and cherished any time spent with his grandchildren—taking them to baseball and hockey games, teaching them how to catch frogs and ride bikes, and making lasting memories. He did his best to impart to them the very same values for which he will always be remembered. His legacy will live on in the lives of his children and grandchildren.
Mark was deeply devoted to his family. He is survived by his wife Bev of thirty-nine wonderful years; their son Jeremy and his two children Hunter and Eden; their son Matthew, his wife Chelsea, and their four boys Landon, Brayden, Wyatt, and Mack; their daughter Rebekah, her husband Jessiah, and their daughter Selah; his sister Susan; and many dear relatives and friends.
His family invites you to join them in celebrating his life on Saturday, April 9th, at Open Door Bible Baptist Church in Lisbon, where he was a faithful servant of the Lord for many years. Visitation will begin at 11AM with the service to begin at 12PM. There will be a "Mark-style" reception to follow at the same location. To honor Mark's love for his country, please feel free to come dressed in casual, patriotic attire!
In lieu of flowers, we invite you to make donations to Operation ReBoot Outdoors to make a difference in the lives of veterans in Maine. Please donate here: operationrebootmaine.org/donation-form
The Trimble family would like to express their deepest gratitude to the staff at Midcoast Hospital. We cannot thank you all enough for the impeccable, tender care that you provided for our precious loved one during his final months on this earth.
"I have fought a good fight,
I have finished my course,
I have kept the faith."
2 Timothy 4:7