« Obituaries | Vickie Swanson
Vickie Swanson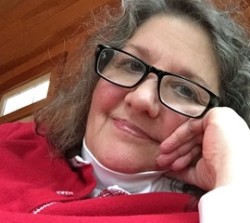 Date of Death: July 23, 2023
Date of Birth: February 24, 1954
Biography:
On Sunday morning, July 23rd, Vickie Swanson passed away peacefully at the Androscoggin Hospice House in Auburn following a four-year battle with breast cancer.
Born to Victor and Marilyn Hamel in 1954, Vickie grew up in Mechanic Falls where she was a longtime resident. Following her graduation from Edward Little High School in 1972, she went on to attend Oral Roberts University for two years before leaving to start a family. She later finished her bachelor's degree in English at the University of Southern Maine, graduating summa cum laude.  She was employed in a variety of positions, but the one she remembered most fondly was as an elementary school teacher at Hosanna Christian School from 1986 to 1998. She married for a second time in 2008 to John Swanson, and they spent countless happy moments together until his sudden death in 2016.
Vickie's interests and curiosities were diverse. Whether scouring the genealogical records, going on a spontaneous adventure, or staying home and decorating her house with vintage trinkets and homemade creations; she lived her life with meaning and purpose. She had a distinct passion for reading, writing, and photography which are all displayed on her blog, A Haven for Vee (https://ahavenforvee.blogspot.com/). She enjoyed blogging and she loved her blogging friends. Her true delight, though, was in caring for her family. One of her greatest joys in life was family gatherings and watching the littlest members learn and grow. If the measure of a life is in how much you've let your family know they're loved, then hers was a life well lived. As her disease progressed, she often reminded her family not to worry because, as a born-again Christian, she knew she was going to a better place. We are grateful she's with her Heavenly Father now and will see her again one day.
She is survived by her devoted sister, Kim and her husband Steve Nickey, daughter Laurel Paladino, son Adam Paladino and his wife Michelle, grandsons Samuel and Jakob Paladino, nieces Kirsten and Keanne Petrie, and a great nephew and niece, Emmanuel and Anneke Wiley.

The family expresses a heartfelt thanks to Dr Basem Elbrolosy and all the personnel at Poland Family Practice, Androscoggin Home Care & Hospice, and the New England Cancer Specialists, for the thoughtful care they gave to our beloved, Vickie.
Family and friends are welcome to attend a BBQ Celebration of Life at Range Pond State Park on Saturday, August 19 from 1:00pm to 5:00pm.