« Obituaries | Brian T. Sullivan
Brian T. Sullivan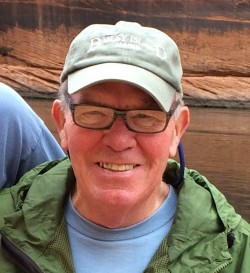 Date of Death: December 27, 2017
Date of Birth: December 26, 1944
Biography:
BAILEY ISLAND - Brian T. Sullivan, 73, of Bailey Island, Maine, formerly of Waterford, Connecticut passed away peacefully at his home surrounded by family on December 27, 2017.
Brian was born in Hartford, CT on December 26, 1944, the son of John and Teresa Sullivan. He attended Waterford High School. After graduating high school in 1962, Brian attended Maine Maritime Academy in Castine, Maine. During college, Brian met his future wife, Sylvia Marquis, on a blind date. After graduating from Maine Maritime in 1966, Brian sailed with Tidewater Oil out of Delaware. Soon thereafter, he took a job in Wilmington, North Carolina where he taught at Cape Fear Technical Institute as an instructor on the research vessel The Advance. Brian and Sylvia were married in 1967 and lived in North Carolina for two years.
In 1969, Brian returned to Connecticut with Syl, and raised their three children in Waterford. Brian also started a career in the marine insurance industry that lasted almost 40 years. If asked, Brian would claim his real job was as a fisherman, though. Brian's life as a fisherman began when he was 12 years old and continued through retirement. Lobstering, clamming, gill netting, fish trapping, and purse seining; anything that got him out on the water! He also loved underwater adventures, and enjoyed exploring numerous tropical destinations with his family. Brian passed along his love of travel to his three children who will forever cherish the memories of those family vacations. Adventures at home centered around large family gatherings at the holidays. No one will ever forget the 4th of July party that ended with a houseboat, PVC pipe, fireworks, and a visit from the police.
After years of weekend getaways to Maine, Brian and Syl returned permanently in 2009 for retirement. Brian, of course, carried on his passion for fishing after relocating to Bailey Island. Brian and Syl celebrated their 50th wedding anniversary in September 2017, surrounded by family and friends.
Brian made countless friends over the years, always surrounded by one motley crew or another. People were drawn to his boisterous and kind personality. He lived life his way, and his generous nature was infectious.
Brian is survived by his wife, Sylvia Marquis Sullivan; daughter, Kellie Sullivan of South Portland; daughter, Kathy Sullivan, and husband, Jeff Thumm of Happy Jack, AZ; son John Sullivan, and wife, Katy Wood of Coventry, RI, and two adored granddaughters, Keely and Kiera. In keeping with Brian's wishes, there will be no funeral services.