« Obituaries | Ann Schwenk
Ann Schwenk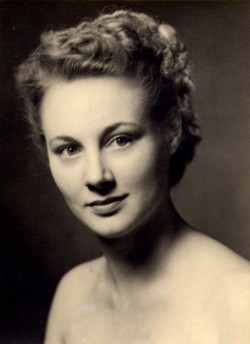 Date of Death: January 23, 2013
Date of Birth: October 16, 1927
Biography:
Yarmouth- Ann Schwenk of Freeport, Maine died on January 23rd, 2013. She was 85 years old. Born Agnes Mary Dods in Brooklyn, New York to Hannah "Dorothy" and John Dods.
In 1929 she moved with her parents to the Verdun neighborhood of Montreal where her twin sisters, Dorothy and Catherine were born (Catherine died in infancy), as well as her youngest sister, Jacqueline.
At the age of 9 she returned to her family's home in Liverpool, England. The family settled in the Merseyside area of Liverpool. Liverpool was an important port city and it was heavily bombed during the blitz. She shared memories from her experiences during the war throughout her life.
After completing her primary studies at the age of 14 she went to work. She held a variety of jobs: working in a munitions factory, volunteering for the Women's Land Army doing agricultural work, and as a bus conductress on the double-decker buses. She could be heard chanting, "Move along forward, plenty of room up top", she received the nickname "duchess" for her refined accent.
At 21 she won first place in the English National Herald Cover Girl contest. And moved to London where she studied sculpture at Hammersmith Polytechnic and worked as secretary to a casting director at MGM (Metro-Goldwyn-Mayer).
She had a brief marriage to Visva Nathan Silvaratnam and enjoyed traveling to Ceylon. She remained a talented cook of Indian curries for the rest of her life.
In 1960 she traveled to New York City for a holiday and met Herman Schwenk. Lacking money they spent many happy hours traveling the Staten Island Ferry and were married 6 weeks later. The couple enjoyed a passionate and love filled marriage for 49 years until Herman's death in 2009. While in New York she worked for TelePrompTer and was executive secretary to the president of Franklin Simon Department Store.
Their daughter, Catherine, was born in 1962 and in 1965 the family moved to Freeport, Maine. Their son John joined them in 1968. Ann worked on the development of Freeport Community Services, the governor's commission to close AMHI and other mental health services.
In 1978 she and her family moved to Santa Monica, California, where she attended UCLA and UC and developed a day program for elders in Bell Gardens, CA. She returned to Maine in 1982 where she graduated Cum Laude from the University of Maine with a degree in social work. In the 1980s she developed Brunswick Area Respite that she enjoyed attending in her last years.
She is survived by her daughter, Catherine, son in-law Jim Gray, her cherished granddaughter Hannah Schwenk-Sandau; her son John, daughter in-law Martha Putnam and adored grandson William all of Freeport, Maine. She is also survived by her two sisters, Dorothy Coscia of Spring Hill, FL and Jacqueline Maisonneuve of Mississauga, Canada; her cousin Thomas Fullerton of Toronto, Canada; sister in-law, Marion Hyatt of Kingston, NY; many wonderful nephews and nieces & grand nephews and nieces; and a constellation of wonderful friends both old and new including her terrific friends at "The Club".
In lieu of flowers, donations may be made to Brunswick Area Respite 12 Main St., Suite #2, Topsham, Maine 04086.
A full and generous life
Indomitable spirit
Queen of one-liners
Incisive wit