« Obituaries | Toby Sanders
Toby Sanders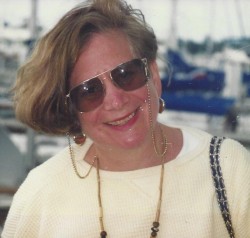 Date of Death: July 26, 2015
Date of Birth: May 28, 1941
Biography:
BRUNSWICK - Toby Sanders, Pioneer in Nuclear Medicine, passed away on Sunday, July 26 after a long and courageous battle with Myeloid Leukemia. She was born in Fitchburg Massachusetts on May 28, 1941. Her father was Joseph
Silverman and her mother was Beatrice Schonberg. She attended Hope High School in Providence, Rhode Island and then graduated from the University of Rhode Island with degrees in Engineering and Physics. Her early employment was with the Navy for whom she worked for several years designing torpedo transducers.
Toby was a pioneer in the field of Nuclear Medicine in which she was a highly regarded author, researcher and teacher, focused on the interaction of radiation with matter as it pertains to cardiac and cerebral function. She was first hired into the field at the University of Chicago in the Department of Nuclear Medicine and then at the University of Pennsylvania in 1968 as a Research Associate in Nuclear Medicine. While at the University of Pennsylvania from 1968 to 1998 she married Dr. Ted Sanders in 1971, working beside him in the field of Nuclear Medicine for many years.
Toby also taught at the Graduate Hospital under the auspices of the University of Pennsylvania, mentoring many with graciousness and perseverance. Having authored many technical, scientific publications during these years, Toby cemented her reputation for brilliance and achievement in the field. In 1998, she left the University after also having served as Clinical Manager for several departments prior to her retirement. In 2001 she began her own consulting company, travelling extensively throughout the United States, Canada and Puerto Rico, again retiring in 2010.
Toby is predeceased by her father and mother. She will be deeply missed for her empathy, love and inclusiveness of all she met, particularly by her husband Ted; sister, Deborah Bateman of Melrose, MA.; brother, Alan Silverman of Pawtucket Rhode Island; niece, Joanna Hannigan and nephew, Aaron Bateman, both of Massachusetts; nephew, Joel Silverman of California; and six step children, Lisa Cormier of West Dennis, MA, Evan Sanders of Boston, MA, Michael Sanders of Brunswick, ME, T. Philip Sanders Jr. of Bristol, CT, Erica Sanders Foege of Westport, CT, and Christopher Sanders of Berlin, Germany.
Memorial Services have yet to be finalized.
In lieu of flowers, donations can be made to the Lymphoma and Leukemia Foundation, 191 Waukegan Road, Suite 105, Northfield, IL 60093.