« Obituaries | Erik H. Sandelin
Erik H. Sandelin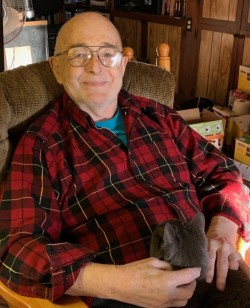 Date of Death: March 14, 2023
Date of Birth: June 11, 1941
Biography:
Erik H. Sandelin, 81 of Brunswick, Maine passed away peacefully at home on March 14th, 2023. Erik was born June 11th, 1941 to Hugo J. and Beatrice Sandelin. He served eight years in the Air Force ending his service after a tour in Vietnam. He was a long-time employee of IBM where he maintained a close working relationship as a private contractor before retiring. It was often difficult to tell where his job ended, and his hobby began as he could spend hours puttering with his numerous computers. He also enjoyed building and flying radio-controlled airplanes, geocaching, gardening and caring for his cats Missy and Lily.
He was predeceased by his parents, Hugo and Beatrice, his sister Catherine and his wife of 50 years Mary. He is survived by his brother Hugo Keith, his children Erik M. and Heather Sandelin and Teresa and Gregory Birrer, and four grandchildren, Mary, Nathaniel and Samuel Birrer and Ciaran Sandelin.
At his request, Erik's ashes will be buried next to his beloved wife, Mary. There are no public arrangements, and his family asks only that those who knew Erik remember him fondly in their hearts.