« Obituaries | Gary E Ryder
Gary E Ryder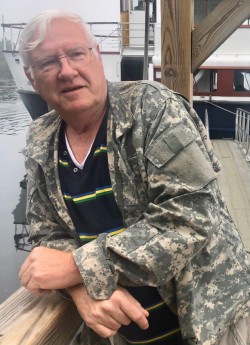 Date of Death: March 11, 2022
Date of Birth: May 22, 1952
Biography:
Gary E. Ryder of Lisbon, 69, died March 11 just a week after being diagnosed with butterfly glioblastoma multiforme, a rare and aggressive cancer that invades both hemispheres of the brain.
He was born May 22, 1952, in Lewiston and grew up in Canton with his mother, Luverne Seaward Plourde, her husband, the late Evan Plourde, and siblings.
Following graduation from Dirigo High School in Dixfield in 1972, he spent a year as an agricultural worker in Florida. In 1973 he joined the U.S. Navy and served four years aboard the U.S.S. Damato, where he worked as a boiler operator. He attended Peterson School of Engineering in Boston, earning certification as a boiler engineer.
On June 21, 1975, he married Darlene I. Daley of Dixfield. They first lived in Rhode Island and later in Turner, before settling on a large tract of land along the Androscoggin River in Lisbon.
After his honorable discharge from the navy in 1977, he began work as a boiler operator at Bath Iron Works (BIW). He was promoted to maintenance supervisor at BIW and later became a safety officer. He left BIW in 1995 and worked as a boiler operator at St. Mary's Regional Medical Center in Lewiston. He later transferred his knowledge and skills to Central Maine Medical Center (CMMC), also in Lewiston. He was employed at CMMC at the time of his passing.
A lifelong outdoor enthusiast, he was an avid hunter, fisherman and camper, who had a deep connection with the woods, waterways and mountains of western Maine, and, in particular, an area encompassing the Dead and Kennebec rivers, Flagstaff Lake and the Pierce Pond watershed. In 2000 he caught and released the biggest brook trout documented in this area in more than 40 years. As a Maine guide who knew him well once said, "Gary's just got the knack." With family and friends in tow, he journeyed three times to Alaska's Kenai Peninsula, where he again demonstrated the "knack" by catching and releasing a 50-pound king salmon as other fishers, tourists, and local residents applauded.
A restless spirit, he had wide-ranging interests that he pursued passionately – until it was time to try something new. He snowmobiled, boated, four-wheeled, gardened, kept honeybees, built furniture, milled lumber, and boiled maple syrup, among other things. But one interest that never waned was poker. These pursuits introduced him to many future friends and acquaintances, virtually all of whom remarked on his sense of humor and generosity.
He is survived by his wife, Darlene, of Lisbon; a son, Nathaniel, his wife, Marisa, and their son, Jacob Ryder, all of Lisbon; and a daughter, Elizabeth Ryder, also of Lisbon. Other survivors are his mother, Luverne Plourde of Lewiston; a sister, Deanna Plourde, and her fiancé Guy Laplante, of Lewiston; a brother, Ralph Ryder, and his wife, Mary, of Livermore; and a brother, Bradley Plourde of Lewiston. He was predeceased by a brother, Randy. Surviving in-laws are Shirley and Bob Cornell of Hamilton, New York; Gerald and Gayle Daley of Dixfield; Patrick Daley and partner Sue Westleigh of Sabattus; Edward and Jeannie Daley of Bowdoin; Lillian and Ricky Belanger of Lewiston; Tommy and Linda Daley of Lewiston; Pastor Bob and Terry Daley of Panama City, Florida; John Daley of Dixfield and in-laws Kathleen Daley of Dixfield and the late Edward Daley. Also surviving are many nieces and nephews, and Kenai, his canine companion for the past 13 years.
Rest peacefully, my husband, in the Kingdom of Heaven. You will always shine like the brilliant morning star that heralded your passing. 'til we meet again. Love forever, Darlene.
Gary's family would like to thank Randy Dustin, Gary's long time fishing partner and friend, for writing this obituary.