« Obituaries | Edith Antonia Rentz
Edith Antonia Rentz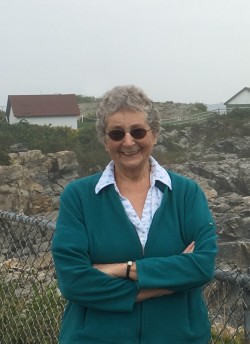 Date of Death: June 6, 2018
Date of Birth: January 13, 1941
Biography:
BRUNSWICK - After an extended struggle with pancreatic cancer Edith Antonia Wagner Rentz passed away on Jun 6th. She will be sorely missed by her husband, David Rentz, her son, Paul Rentz and her daughter, Julia Rentz Dupuis as well as by Paul's wife, Kelley Newell and their daughter, Haleigh Newell-Rentz and Julia's husband, Kenneth Dupuis and her sons, Maxwell and Isaac.
Born in Brooklyn on Jan. 13, 1941, she grew up in the Glendale section of Queens in NYC where her parents settled after emigrating from Germany in the 1920s. She always thanked her parents for keeping the German language alive for her. They always spoke German at home, so Edith grew up bilingual.
Edith received her Bachelors Degree from Valparaiso University, her Masters Degree from Middlebury College which included a year's study at the University of Mainz in Germany, and finally her PhD from Indiana University. All of these degrees were in German. She taught German at Martin Luther High School in NYC, at Valparaiso University, at Indiana University, at Hiram College in Ohio, and finally at Bowdoin College. In fact she came to Brunswick with her family to accept a two year appointment at Bowdoin thinking that some other college teaching position would appear in that time period, but none ever did. She and her family fell in love with Maine and decided to stay.
Having qualified to teach English while at Valparaiso, Edith was hired to teach it at Freeport High School where she spent nearly a quarter century. In that time she was beloved by generations of students and by her fellow faculty members. After retiring from teaching, she found time for volunteer work with the food pantry and the library's used book store, Twice Told Tales. Edith was a lifelong lover and sharer of books and belonged to a number of book clubs. She was also an avid quilter and adventurous traveler. With her husband she made several trips to Germany with side trips to Budapest, Prague, Krakov, and Czestechowa
She was a devoted member of Good Shepherd Lutheran Church and derived great spiritual sustenance from that association. Her friends there will miss her. A memorial service will be held at Good Shepherd on the 23rd of June at 1:00 PM
In lieu of flowers please tender donations to the Brunswick Food Bank, Friends of the Curtis Library, or Good Shepherd Lutheran Church.