« Obituaries | James "Jim" Redwine
James "Jim" Redwine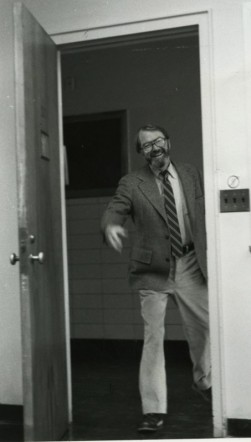 Date of Death: March 22, 2023
Date of Birth: January 4, 1932
Biography:
Brunswick - James (Jim) Daniel Redwine Jr. of Brunswick, Maine died peacefully surrounded by family on March 22nd. Jim was born January 4th, 1932, in Macon, Georgia, the oldest child of four, to parents J. Daniel (Dr. Dan) Redwine Sr. and Hazel (Gog) Louise Slaughter Redwine. Jim was awarded his Bachelor of Arts from Duke University in 1954 where he played football for the Blue Devils. In 1956, he earned a Masters of Arts from Columbia University. His PhD was awarded in 1962 from Princeton University. Finally, after being strongly encouraged by his father to "get a job," he became an Assistant Professor at University of Cincinnati from 1961-1963. In 1963, he began his long tenure at Bowdoin College as the Edward Little Professor of English Language and Literature where he served as department chair. While teaching at Bowdoin, he frequently lunched with fellows at the original Chuck Wagon or the Bowdoin Steakhouse. Jim was often seen toting student papers, constructively marked with red pen, in a basket adorned on his Schwinn bike. He retired in 1996 after being widely published and beloved by many with whom he worked and taught.
He married Kate Bertles on February 19th, 1966, in Brunswick and they had a son, James (Jamie) Daniel Redwine III in 1967. Jim and Katie were often travelling or entertaining friends and were avid foodies and supporters of the arts. Jim stayed by her side until her passing in 1982. From 1985 to 2000 Jim was married to Judith. Together, they enjoyed sailing the Casco Bay and visiting and spending time with their expanding family.
Jim remained physically and mentally active throughout his life. He enjoyed squash, tennis, running, biking, hunting, and sailing. In addition to his deep understanding of English Literature, he could often be found reading "something in French," or several other languages in which he was self-taught in order to appreciate the piece in its original form. An avid and wily card player, Jim enjoyed playing games throughout his life.
Always a southern gentleman, it was a rarity to see Jim out of khakis, a button-down, and a sweater tied over his shoulders. Despite his southern roots, Jim always had a deep appreciation for classic Midcoast cuisine. Fish chowder and a blueberry muffin from the Dolphin in Harpswell, a chili dog from Danny's on the mall, and a chocolate ice cream from Cote's on Maine Street were some of his staple meals. He will be remembered by loved ones for his quickwitted one liners and showstopping zingers. Jim was known to mark special occasions with his signature poetic narratives and toasts.
Jim was known for his habits and nearly ritualistic routines. Fresh ground coffee and a newspaper followed by calisthenics launched every day. Back supported by a Bowdoin pillow, Jim was then found reading in his favorite chair. After lunch, a restorative nap was essential, eyes covered with a folded handkerchief.
Jim is loved and missed by his siblings Margaret "Teen" Timberlake (Timothy), Craighill Redwine (Helen), and children Jamie (Robin), Lisel, Stephanie, Katybel, Sarah, Nate, Hannah, and thirteen grandchildren. Jim is predeceased by both parents and brother, Hal (Macky) Redwine. Jim's life and memory will be honored in a private celebration at a later date. Condolences may be shared at Funeralalternatives.net