« Obituaries | Hilda S. Monk
Hilda S. Monk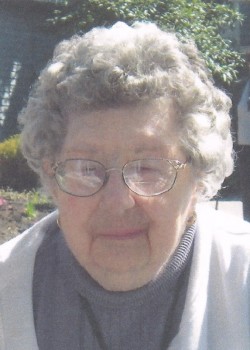 Date of Death: April 28, 2013
Date of Birth: August 29, 1913
Biography:
Hilda S. Monk, 99, of Auburn passed away on Apr. 28th, 2013 at Clover Manor.
She was born on August 29th, 1913 in Lee Maine the son of David and Marjorie (Cobb) Smith.
She graduated from Mattawamkeag High School in 1930, and was a 1933 graduate of the Maine School of Commerce, formerly of Auburn.
Hilda loved spending many years at her beloved "Camp Hilda" in Lincoln, Maine. She also enjoyed playing bridge with her friends, sewing, braiding, and knitting.
In the 1930s, she worked as a secretary for Milliken Tomkinson, and then in the late 60s she worked as a bookkeeper for the Northeast Bank until her retirement.
Hilda was predeceased by her husband, Dana Monk and her eldest son, James Monk.
She is survived by her son, John Monk, and her daughter-in-law, Diane Monk.
A graveside service will be held on Thursday, May 2nd, at 11am in Mt. Auburn Cemetery

200 Mt Auburn Ave Auburn, ME. In lieu of flowers, donations may be made to the Clover Manor Activity Fund 440 Minot Ave. Auburn, Me 04210.