« Obituaries | Richard Geer Main
Richard Geer Main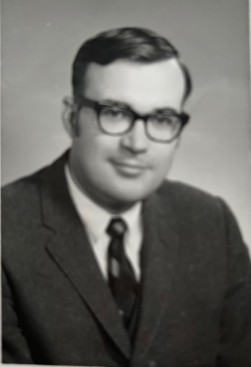 Date of Death: February 14, 2022
Date of Birth: August 30, 1942
Biography:
Richard Geer Main, 79, went to be with his Lord and Savior Jesus Christ on Monday, February 14, 2022. Richard "Dick" was born on August 30, 1942 in Norwich, Connecticut to parents who kept a small farm. He was the third of 5 children born to Elmer Otis and Mary Whipple Main. He is preceded in death by both parents and two sisters, Joyce Munsell, Raleigh, NC and Dora Tofflemire, Englewood TN .
Richard attended Barrington College in Barrington, RI, and Gordon College in Wenham, MA from which he graduated in 1965. He met his lifelong love, Margaret K. Erickson, while they were both students at Denver Theological Seminary, in Denver, Colorado. They were married at Northwest Baptist Church on August 11, 1967.
He was ordained to the ministry in 1971 and served in various pastoral positions in Knox Ridge, Millinocket, and Portland, Maine and Sheldonville, Massachusetts. After 10 years of fulltime ministry Richard took public service positions as 1st Selectman of Dresden ME, Tax Assessor for Freeport and Brunswick ME, and most recently, until his retirement in 2015, as Senior Personal Property Appraiser for the City of Lewiston, ME. He has also served as Chair of the Conservation Commission for the town of Lisbon, ME and on the Advisory Board for the Lisbon Town Council. His honest & wise counsel was well known and at a recent Town Council meeting, a minute of silence was observed in his honor.
Besides the hours spent serving the town, he loved traveling with his wife, fishing, working on various projects including renovating 2 boats and two vans, offering counsel and support to children,
grandchildren, and others, both in-person and on social media. He was faithful in his attendance at Pathway Vineyard Church and most recently a loved volunteer with the youth program at Pathway.
He is survived by his loving wife Margaret K. Main of Lisbon Falls, ME; son Kent R. Main and his wife Diana Main of Turner ME; daughter Katharine Main Lundby and her husband Stein Lundby of Solana Beach, CA; daughter Kristen A Nicholas and her husband Christopher Nicholas of Littleton, ME and daughter Karen A Thorp and her husband Josh Thorp of Winchester, VA; grandsons- Kaleb Main, Joshua Main, Stetson Nicholas, Peter Thorp, Levi Thorp, Aiden Lundby and Jonathon Thorp; granddaughters- Kirsten Main, Annika Nicholas, Hope Thorp, Estelle Nicholas and Evangeline Lundby.
He also leaves behind his sisters Emily Tull and her husband George Tull of Grand Junction, CO, Carolyn Maslin and her husband Ernie of Huntington, IN, a chosen daughter, Pam Hamilton of Bath, ME and two chosen grandchildren, Kenneth Hamilton of Auburn, Maine and Kaitlyn Dailey of Sabattus, He also leaves behind many nephews and nieces and in recent years developed a special relationship with a cousin Gene Nichols and his wife Pat of Porter, Maine.
We his wife, children and grandchildren, are grateful for his life and legacy of love and faithfulness to God and to his wife and family, and his loyalty to his friends.
We all agree without reservation that he was a man of strong character and integrity and unwavering in his support of each family member. We could always turn to him for wise and godly council. We will cherish all the memories, including working with him on one of his many projects, hiking, or just hanging out. We will fondly remember his sense of humor. The inheritance he leaves cannot be measured and it can't be taken away. We have been truly blessed.
Calling hours will be held at Funeral Alternatives, 25 Tampa Street, Lewiston, ME on Friday, February 25, 2022 from 5-7pm. A memorial service will be held at Pathway Vineyard Church, 12 Foss Road, Lewiston, ME, on Saturday, February 26, 2022 at 1:30pm with a reception following.
In lieu of flowers, the family asks that gifts be made to the Pathway Youth Program. Checks can be made out to Pathway Vineyard Church with "youth" in the memo line, or http://pathwayvineyard.com/.../tithes.../richardmain-youth.
A private graveside service will be held at a later date.