« Obituaries | John Vincent Mahoney
John Vincent Mahoney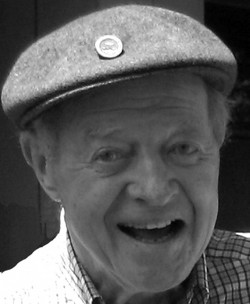 Date of Death: July 21, 2014
Date of Birth: October 16, 1923
Biography:
John Vincent Mahoney of Wayne, Maine passed away on July 21, 2014 after a valiant struggle with pneumonia and heart disease. In his final days, he was visited by close friends and family who gathered by his bedside.  "Jack", as he was lovingly known, was born on October 16, 1923 in Everett, Massachusetts to Michael and Gladys Mahoney (Nolan). He is survived by his three children, David and his wife Pat, their sons Kevin and Colin, Kathy, her husband Barton, and their daughters Taylor and Lena,  Patricia and her daughters Sophia and Emma, a half-sister (Georgia Lane) and two half-brothers (Kevin and Michael Mahoney).
 Jack spent part of his childhood years in Massachusetts and later moved to Skowhegan, Maine with his family. He was Class President and Captain of the football team at Skowhegan High School. At the age of 18, he joined the Marines and served in one of the First Dog Platoons as part of the Pacific Theater. Jack's experience with dogs had come from helping his stepfather raise Irish Setters. Jack was wounded in battle and received the Purple Heart.  He was Honorably Discharged in 1945. He spoke proudly of his experience and shared his stories with local schoolchildren, family and friends. He was interviewed by the newspaper as well. Nevertheless, he did not want to be in the limelight and preferred to give credit to others he served with.
Maine continued to be Jack's home for several years after serving in the Marines. He completed his college degree in Marine Biology at Colby College in Waterville, where he met, Roberta Longley, his wife of 30 years. She was drawn to his charisma and pension for mischief. Jack and Roberta (Bobbie) married in Fort Worth, Texas where he worked for the Fish and Wildlife Service.  He and Bobbie moved to various locales as he conducted studies on the local fishing industry.  Jack worked in Portsmouth, NH,   studied the proposed Columbia dam and the effects it would have on the local Native American tribe along the Columbia River, and worked for many years in the large fishing port of New Bedford, Massachusetts.
 Jack returned to Maine after he retired from the Fish and Wildlife Service in 1979. He eventually built his own home after he and his wife were divorced. Jack has been a fixture in the Wayne community since his arrival. His engaging humor, sometimes ribald, his kind generosity and his sense of adventure helped attract his companion of 25 years, Avis Stanford. They had many happy years and adventures together. She preceded him in death by 7 years. During this time, Jack, sought support in his local church and remained a regular attendee.  Never a religious man, he gained much strength in those last years from the Church and its members.
Jack had a great love of nature. He was an avid fisherman and strong advocate for Maine's waterways. He conducted regular testing of water quality on Androscoggin Lake and wrote countless editorials regarding the importance of improving water quality in Maine's lakes and rivers.
We know that Jack is in Heaven enjoying a beer or whiskey and water, listening to Tony Bennett, Frank Sinatra, and the Big Bands and telling colorful tales of his adventures. He is no doubt making all his friends and family who are up there laugh and dancing with the female angels!
Funeral services will be scheduled at a later date.
In lieu of flowers, Jack's family would encourage donations to The Androscoggin Lake Improvement Corporation; P.O. Box 307, Wayne, 04284 or Wayne Community Church, Box 300, Wayne, ME. 04284.
Arrangements are under the care of Funeral Alternatives 198 Western Ave. Augusta, Me 04330