« Obituaries | David Randall MacDonald
David Randall MacDonald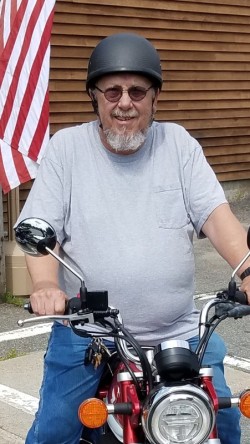 Date of Death: September 27, 2022
Date of Birth: October 30, 1956
Biography:
It is with a heavy heart that we announce the passing of our dear brother and friend, David R. Macdonald. Dave passed away September 27th, 2022, after unexpected medical complications.
Dave was born in Lewiston Maine, to Louis and Glennice Macdonald. He grew up in Auburn, with his mother, his sisters Paula (James) and Leslie (Libby), his younger brother Pete, and later his step-father George Lahey, step-sister Colleen Lahey, and honorary brother Patrick Spencer. Dave was a member of the Pine Tree Warriors drum and bugle corps, of Lewiston, where he made many lifelong friends (Patrick Spencer, Bob Turgeon, Bruce Richardson, to name a few), and he met his first wife Linda (Parent). Dave and Linda married and had two sons together, Tyson and Dustin Macdonald.
Dave graduated EL in 1976, after which he enlisted in the Navy, serving aboard the USS Dwight D Eisenhower as an aviation electrician. Dave would write home from each port of call, ending his letters with "it was alright".
After the Navy, Dave worked at Motor Power for a short time. In 1981 he started an apprenticeship at Bath Iron Works as an electrician. Upon graduation Dave worked as a technician in the electric shop. In 2020, after 39 years, Dave retired, unfortunately, without the traditional retirement party, due to the Covid-19 outbreaks. While at BIW he made many friends; some lifelong. There were many memories made with his BIW family over the years. Motorcycle trips, gatherings with coworkers (Donna and Tom Gregory's pot-lucks/bon-fires at their home, being one of Dave's favorites).
Dave was pre-deceased by mother Glennice Lahey and step-father George Lahey, of Auburn; father Louis Macdonald; son Tyson Macdonald (2014); brother-in-law and niece, respectively, Roger and Belinda James.
Dave leaves behind his remaining son, Dustin Macdonald of Brooks; his sisters, Paula James of Lewiston, Leslie (husband Denis) Libby of Westford MA, and Colleen Lahey (husband Dick Soucy) of Casco; his brothers, Peter (wife Mary) MacDonald of Auburn, Patrick Spencer of Selma NC; his grandkids: Ian Macdonald of Monmouth, Riley Macdonald of Troy, Aiden Temple of Auburn (Tyson's children), and his grandson Elliott Macdonald (Dustin's son) of Warren; many nieces and nephews, aunts, uncles, cousins, and friends.
Dave enjoyed visiting the grandkids, fishing, camping, scenic rides up to Screw Auger Falls with his brother Pete and family, and The Height of the Land via his Harley, with best friends, 4-wheeling, power paragliding, family Christmases and Thanksgivings hosted by Colleen and Dick in their Casco home (much laughter and competitive UNO games), gem and coin collecting (his sister-in-law already misses their shared interests in metal detecting, rock collecting,…). Music was a big part of Dave's life, and he shared that interest with his brother Pete, playing drums, guitar, 8-tracks, cassette tapes, 45s, LPs, CDs, and MP3s. Dave loved his movies, especially his Sci-Fi flicks.
Dave, while being "the Gruffy-Grump" was actually a big softy. He came across rough at times, but he always meant well and tried to understand, and "appreciate our special kind of weird". Dave, we will miss you all the days of our lives.
His family would like to thank Dave's friends, Mike Rancourt and Reney Henry, for the help they've given Dave through the years and especially within the past few months. Without you, Dave's recent challenges would have been insurmountable, as would ours.
Visiting hours will be held Saturday October 8 from 10-Noon at Funeral Alternatives on 25 Tampa Street in Lewiston.