« Obituaries | Roger Laganiere
Roger Laganiere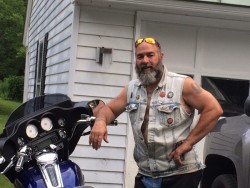 Date of Death: October 26, 2016
Date of Birth: February 22, 1961
Biography:
NEW GLOUCESTER- Roger Roland Laganiere, 55, of New Gloucester peacefully
passed away Wednesday, October 26.
Roger was born in Lewiston on Feb. 22, 1961, the son of Robert and Lorraine (Turcotte) 
Laganiere. He attended Edward Little High School and loved to play hockey. He had
worked at Gates for many years, along with East Branch Delivery Services.
Roger will be remembered for his booming laugh, strong faith, generosity, and kindness. 
He touched many lives and always was there for everyone. He loved his God, his
motorcycle and helping people. Roger loved hiking with his daughter, swimming, and
being around the people he loved.
Roger leaves behind his father and step-mother, Robert and Anita Laganiere of Auburn; 
his sister Ann Gilman and Nephew Rob Gilman of Auburn; His daughter Kali Laganiere
of Sumner; his sons Glen Lane of Rumford and Seth Laganiere of Portland; and all his
loving friends and family.
He was predeceased by his mother Lorraine and brother Gerard.
The family would like to send a special thank-you to Central Maine Medical Center in
Lewiston, and also to Roger Stephenson.
The celebration of life service will be held at The Vineyard in Mechanic Falls on November 
5, 2016 at 4pm. In Roger's memory, the family requests that family and friends please dress casually, and in your favorite tie-dye shirt.