« Obituaries | Neville J. Knowles
Neville J. Knowles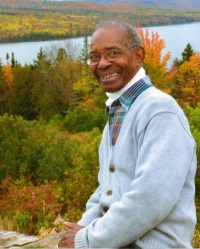 Date of Death: March 10, 2015
Date of Birth: April 23, 1929
Biography:
TOPSHAM – Neville J. Knowles, 85, of Topsham, died on Tuesday, March 10, 2015 at Mid Coast Hospital He was born in Exuma, Bahamas on April 23, 1929, the son of Joseph William Knowles and Muriel Bullard. Neville received his education while he was in the Bahamas, and then later came to Maine in 1952 and made his home here.
He worked at Maine Savings Bank as well as Bates College. Neville enjoyed playing bridge, and loved to play his saxophone and harmonica. He especially loved sharing Bible truths with people about his God Jehovah.
Neville is predeceased by his parents, as well as his first wife Leonie Knowles, a daughter, Sydney, and three brothers, Harcourt, Wellington, and Franklyn.

He is survived by his wife, Colette Knowles; sons, Kendall and Franklyn; daughters, Gail, Betty Lou, Julieanne, and Kendra; sister, Angela Tynes; and many grandchildren, and great grandchildren.

A memorial service will be held on Saturday, March 28, 2015 at 2pm at the Kingdom Hall of Jehovah's Witnesses, 22 Water Street, Brunswick.