« Obituaries | Eugene Keene Sr,
Eugene Keene Sr,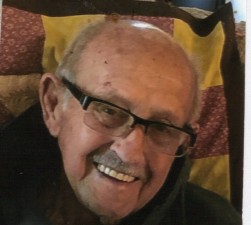 Date of Death: February 7, 2023
Date of Birth: January 7, 1937
Biography:
Eugene Keene, Sr. of Auburn passed on February 7, 2023 with his wife of 68 years by his side at the
Androscoggin Hospice House. "Today I lost my best friend".
He was born to Percy and Cora Keene Jan. 7,1937, and was raised in Mechanic Falls by foster parents, George and Blanche Meggett.
Gene married his wife. Marlene Pray also of Mechanic Falls. Dec. 4th 1954. He served in the United States Air Force from 1955 to 1960 at Biloxi, Miss. And Dover, Del. returning to Maine where he served the City of Auburn as Asst. Superintendant of the Parks and Recreation Dept for 30 years. While there he initiated a youth football program and also coached baseball for Auburn Suburban Little League for many years.
Gene retired in May of 1997 relocating to Boothbay Harbor for 10 yrs.where he tried his hand at lobster fishing and serving on the committee to light up the high school football field. Gene and Marlene wintered in Osprey, Fla. and volunteered for the Florida Park Service for 10 years. Returning to Auburn for his remaining years. Gene and Marlene professed to have "hobo hearts" always looking for the next "adventure".
Gene lived a full and productive life for 86 years.
He loved his FAMILY
His friends
His Country and
His Community
 He leaves behind his wife, Marlene. son. Eugene Jr. wife Kathi, son. Kevin, daughters, Katy Hunter. husband. Billy. Peggy Clements, husband, Mark. 13 grandchildren and 10 great-grandchildren. Gene was truly Blessed and will be sorely missed.
 A celebration of his life, sharing and fellowship will be held at the Auburn Senior Center at Pettengill Park on March 11th, 2023 from 11am to 3pm.