« Obituaries | Michael Ken Jinbo
Michael Ken Jinbo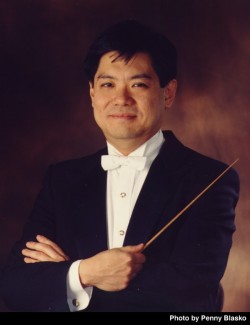 Date of Death: April 18, 2022
Date of Birth: May 20, 1956
Biography:
Michael Ken Jinbo, 65, passed away on April 18, 2022 at Maine General Medical Center in Augusta as the result of a brain aneurysm. He was born to Ronald and Jean (Takara) Jinbo on May 20, 1956 in Honolulu, Hawaii.
Michael was raised and educated in the public schools of Honolulu where he excelled academically and musically, studying the violin and performing with the Hawaii Youth Orchestra. After graduating as valedictorian of Kalani High School, Michael attended the University of Chicago, where he received his undergraduate degree in Music. He then received his Master's Degree in Orchestral Conducting at Northwestern University.
Beginning in the summer of 1983, Michael attended the Pierre Monteux School for Orchestral Conductors and Musicians in Hancock, Maine. Upon the death of his teacher Charles Bruck in 1995, Michael was appointed music director, a position he held until his death. Michael was also Conductor and Music Director of the Nittany Valley Symphony in State College, PA for over thirty years, another position he held until his death.
In addition to his musical endeavors, Michael also loved the theatre and was a gifted director, working primarily with the Aqua City Actors Theatre (ACAT) of Waterville.
Michael was married twice, first to his wife Anna Lysakowski of Chicago and then to his husband Joseph Klapatch of Augusta. Both survive.
Michael is survived by his mother, a brother Brian, and a sister Leslie.
Michael is also survived by Joseph's first spouse, Rolanda Klapatch of Camden and her husband Brian Warren; Joseph's daughter, Mariah Klapatch of Owls Head; Joseph's seven siblings and their families, including Pat and Chris Klapatch; Jim Klapatch and Kathy Schurman; Pete Klapatch and Kim Werner, Paul Klapatch and Luanne Ferron, Barb and Randy Fondow, Leni and Steve Spaude, and Mary Nickel.
Michael was preceded in death by his father, brother David, brother-in-law Bob Nickel, sister-in-law Marlys Trunkhill, and nephew Jonah Andrew Klapatch.
Michael was much loved and will be remembered by his many other relatives, friends, students, and fellow musicians and thespians.
Michael's family would like to thank the doctors and nurses at Maine General Medical Center for their professional, respectful and loving care during the final days of his life. They would also like to thank the staff of the Kidney Dialysis Clinic in Augusta and the Kidney Transplant Center in Portland. Michael had a living kidney donor and was scheduled to receive a kidney transplant in June.
Memorial services will be held for Michael at a later date in Hancock, Maine; State College, PA; and Door County, Wisconsin.
In lieu of flowers, contributions may be made to the Pierre Monteux Memorial Foundation, PO Box 457, Hancock, ME, 04640 or the Nittany Valley Symphony, PO Box 1375, State College, PA, 16804.