« Obituaries | Floyd Illig
Floyd Illig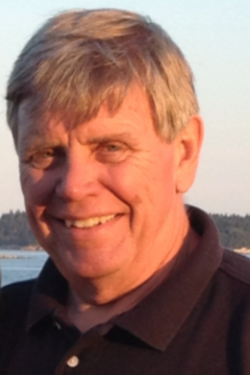 Date of Death: August 25, 2015
Date of Birth: August 4, 1949
Biography:
BRUNSWICK - Floyd Illig, 66, of Brunswick passed away peacefully on August 25, 2015 at the Gosnell Memorial Hospice House surrounded by his loving family.
He was born on August 4, 1949 in Flint, Michigan to Floyd and Alvena Illig. In college he met his then to be wife, Stephaney, while square dancing and on March 3, 1972 she became his bride.

They made their home in Flint, Michigan and on March 28, 1983 they were blessed with the arrival of their daughter, Jennifer. Floyd retired from General Motors in 2008 where he worked for 37 years in skilled trades as a welder. Although he enjoyed many activities including square dancing, hunting, fishing, camping, biking, snowmobiling and boating, his greatest enjoyment was sharing it with the ones he loved the most, his family. In 2012, to be closer to their daughter, Jenny and son in law, Khoa Khuong they relocated to Brunswick, Maine where they rekindled their passion for square dancing. Floyd was a member of the Sage Square Dance Club and Lions International. He was also known as a jack of all trades who could fix almost anything.

He was preceded in death by his parents.

He is survived by his wife, Stephaney; daughter and son in law, Jenny and Khoa Khuong; three sisters, Ann (Tom) Diehl, Donna (Ron) Bavier, Carol Illig; a brother, Wayne (Kay) Illig; a special brother in law, Edward (Carolyn) Johnson, and many nieces and nephews.
The family would like to thank the staff at the Gosnell Memorial Hospice House for their kind and compassionate care and the doctors, nurses and staff at the New England Cancer Specialists.

A memorial service will be held at the Good Shepherd Lutheran Church located at 330 Maine St. Brunswick, ME 04011 on Saturday, August 29, 2015 at 2:00 pm.
In Lieu of flowers, memorial gifts may be made to the Maine Cancer Foundation, 170 US Route 1, Suite 250, Falmouth, ME 04105.