« Obituaries | George F. Herrick Sr.
George F. Herrick Sr.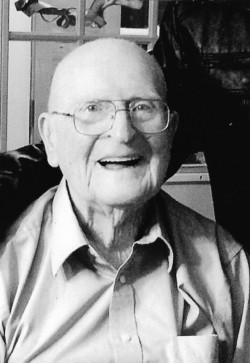 Date of Death: January 26, 2015
Date of Birth: November 7, 1915
Biography:
LEWISTON — George F. Herrick Sr., 99, of Auburn, passed away Monday, Jan. 26, at St. Mary's Regional Medical Center.
He was born in Oxford on Nov. 7, 1915, to parents Adna and Maude (Poland) Herrick. George attended Oxford schools, graduating from Oxford High School in 1924. He served our country during World War II in the U.S. Army Air Corps.
On April 8, 1939, he married his late wife, Bernice Trebilcock.
George worked for 45 years at Robinson Manufacturing as an overseer. He also worked at the Cowan Mill.
He attended church at Court Street Baptist Church in Auburn. George was a 60-year member of the Tranquil Masonic Lodge in Auburn; a 50-year member of the Kora Shrine; and a longtime member of the Square and Compass, American Legion Post 166 in Goosecreek, S.C., 40 and 8 in South Carolina, Pine Cone Eastern Star No. 26, the Summerville, S.C., Masonic Lodge No. 234, the Robin Dow Seniors and the First Auburn Seniors. He was a former member of the Anderson Staples Legion Post in Oxford.
George enjoyed bowling and bowled at Sparetime Recreation in Lewiston and in Summerville, S.C. He was a leader of the Cub Scouts and Boy Scouts, and was a big fan of the Boston Red Sox.
George leaves behind four children, Bernice Brooks, George Herrick Jr. and his wife, Terri, Sheila and her husband, Edward Desgrosseillers, and Sherry and her husband, David Johnson; 15 grandchildren, Daniel and his wife, Rhonda Obie, of Lewiston, Bonnie Beaulieu of Poland, Jeffrey Obie of Minot, Jennifer and John McWilliams of Lewiston, Melissa and Brian Gilbert of Hudson, Patti and her husband, Ken Gilbert, of Turner, Shelley Maguire of Greene, Chris and his wife, Heather Herrick, of Berwick, Todd and his wife, Chris Desgrosseillers, of Stafford, Va., Gregory and his wife, Denise Desgrosseillers, of Fredericksburg, Va., Mark and his wife, Kelly, of Middletown, Del., Carol and her husband, Charles Reed, of Leeds, Erin Clodgoe and her husband, Mike, of Baxley, Ga., David Johnson and Jackie Goodyear of Christiansted, St. Croix, and Jody Johnson and Dr. William Bergen of Melbourne, Fla.; 35 great-grandchildren; 12 great-great-grandchildren; brothers, Lloyd Herrick and William Herrick; sister-in-law, Dorothy; and several nieces and nephews.
He was predeceased by his beloved wife, Bernice; his parents; a great-grandson, Kenneth L. Gilbert Jr.; and three brothers, Arthur, Chester and Orman.
The family would like to extend a special thanks to the staff at the Odd Fellows Home and d'Youville Pavilion for the exceptional care and love given to our Dad.
A memorial visitation will be held from 6 to 8 pm on Saturday, January 31st, 2015 at Funeral Alternatives, 25 Tampa St. Lewiston, ME. A masonic service will be held at 7:00 pm. Burial will take place in the spring. In lieu of flowers, please make a contribution to Larry Tidswell Endorsement Fund C/O Odd Fellows Home, 50 Caron Lane, Auburn, ME 04210.