« Obituaries | Samuel Stanton Greene
Samuel Stanton Greene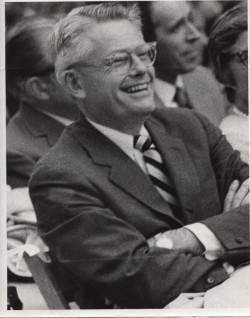 Date of Death: November 27, 2016
Date of Birth: October 14, 1927
Biography:
BRUNSWICK - Samuel Stanton Greene died at home in Brunswick, Maine, on November 27, 2016. He was born on October 14, 1927, in New London, Connecticut.

In 1946 he enlisted in the U.S. Army and served for two years in the Medical Corps. Following graduation from Amherst College in 1951, Sam began a long career as a school master; first at Mount Hermon School, Gill, Massachusetts, teaching mathematics, coaching cross country, and founding the summer school. In 1966 he was appointed headmaster of Shady Side Academy in Pittsburgh, Pennsylvania; during his tenure co-education was introduced.

In 1953 Sam married Martha E. Payne; they had five daughters: Meg (Dana Bourgeois) of Brunswick, Maine; Georgia of Ann Arbor, Michigan; Julie (Kevin Kearns) of Greenfield, Massachusetts; Sarah (Judith Jordan) of East Hampton, New York; and Lydia (Michael Bird) of Harvard, Massachusetts. He delighted in his grandchildren: Benjamin and Samuel Bourgeois, Nicholas and Steven Kearns, and Grace Bird.

Sharing the last 32 years with his wife, Phyllis Gansz, Sam lived in Yarmouth and Brunswick. Pleased to be near the sea and continuing his lifelong enjoyment of family, singing, travel, church and friends, he characteristically described himself as "on top of the wave."

Memorial donations may be made to CHANS Home Health Care, 60 Baribeau Dr., Brunswick, ME 04011 in support of its hospice program.