« Obituaries | Lewis B. Frank
Lewis B. Frank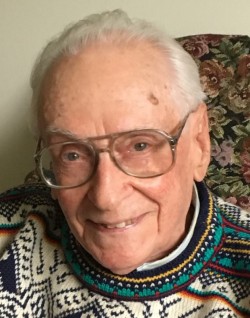 Date of Death: February 11, 2019
Date of Birth: February 20, 1924
Biography:
BATH - Lewis B. Frank died peacefully Feb. 11, 2019, after a long, full life and a brief illness. He was 94.
Lew was born Feb. 20, 1924 in Lancaster, Penn., the son of Lewis B. Frank Sr. and Ethel Mae (Bletcher) Frank. He graduated from Franklin and Marshall Academy in Lancaster and earned a BA degree from Franklin and Marshall College. He received a Masters degree in psychology from Johns Hopkins University. He was a practicing psychologist and a longtime professor at Gettysburg College in Pennsylvania. He served in the U.S. Army in Europe during World War II.
He married Jean Ward, the love of his life, in 1949. They settled in Gettysburg, where they raised two children. He taught college psychology, she taught high school English. Every summer they escaped to a spit of land on the coast of Maine called Indian Point. They became full-time Mainers in 1992, moving to a home on Bay Point Road in Georgetown. They enjoyed the landscape, the wildlife, the birds, the quiet and the people. Any time of year, Lew and Jean could be seen walking at Reid State Park, binoculars always handy.
Lew was a reader and a thinker. He wrote scholarly articles, reminiscences and letters to the editor. He was an especially kind and thoughtful man, with a wonderful sense of humor. He loved telling stories: about his childhood in Lancaster, his adventures at Franklin and Marshall, the colleagues he'd admired, and especially about his time in Europe during the last year of World War II. He served in the Signal Corps near the front in France and Germany, and witnessed war's horrors. But the stories he told were mostly about the friends he made, the sometimes comical situations he found himself in, and the kindnesses shown to him. He loved to laugh at himself. In all his favorite stories, the joke was on him.
In 2016, Lew and Jean moved to the Plant Memorial Home in Bath, where they could watch the Kennebec River flow by and the osprey that nested on the chimney top. In March 2018, Jean passed away, leaving a hole in Lew's heart that could never be filled.
He is survived by his daughter, Ellen Frank Holmes and her husband, Richard Holmes, of Marlboro, Vt.; his son, Andrew Frank of Gettysburg, Pa.; grandchildren Bonnie Holmes and her husband, Josh Burns, of Marlboro, Vt., Daniel Holmes of Nashville, Tenn., and Olivia Holmes and her partner, Sam Victor, of Upton, Mass.; two great-grandchildren, Gloria and Allie Lew, and many friends and relatives.
Funeral arrangements are private. Memorial gifts in his memory may be made to the Audubon Society, the Nature Conservancy or to a charity of your choice.