« Obituaries | Robert W. Deans
Robert W. Deans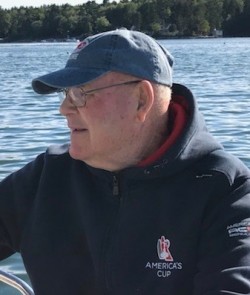 Date of Death: December 27, 2018
Date of Birth: May 30, 1943
Biography:
WEST BATH - Robert (Bob) W. Deans age 75, of Quaker Point Road in West Bath, Maine passed away on December 27, 2018. He passed away at his home with his family after a five-year battle with prostate cancer.
He was born in Biddeford, Maine on May 30, 1943, the son of William and Pauline (Walker) Deans. He graduated from Biddeford High School in 1961, graduated from Keen State College in New Hampshire with a Bachelors of Science in Education and from Stout State University in Wisconsin with a Masters in Science in Industrial Technology. It was here in Wisconsin that he met his wife and life partner of 51 years, Diane Anderson Deans of Minnetonka, Minnesota.
Bob started his teaching career in Long Island, New York but after a year of city life he yearned for his home State of Maine. He taught Industrial Arts at Lewiston High School from 1968-1973. He then taught Industrial Arts at Brunswick High School from 1973-2000. He was a gentle and kind man who gave without desire of personal gain; teaching 33+ years of high school in Industrial Arts and mentoring students.  Bob believed in serving his community. He served as building inspector and on town committees in West Bath for many years.
Bob's love of the sea led to the building and rebuilding of many wooden boats which brought him on worldly explorations. His passion for wooden boats began in his childhood on Kennebunk Pond in Lyman, Maine, which eventually brought him to the impressive s/v Sanderling. Bob rebuilt the 42' wooden yawl, which took 10 years to complete and allowed he and Diane to fulfill their life long dream of cruising throughout the Caribbean. They cruised for over 30 years; as far North as Nova Scotia and as far south as Grenada. Spending many summers cruising Maine and winters in the Bahamas. Some of their greatest memories were of sailing in Mexico, Belize, Honduras and Guatemala. These experiences were made extra special because family would often join them.  Bob was always known to help his fellow cruisers on many of his journeys. Bob, Diane and their Cairn terrier were a sailing team and known throughout their travels. Bob and Diane earned the status of Commodores of the Seven Seas Cruising Association where they inspired others for international cruising.
In recent years he taught his grandsons sailing and woodworking skills. These were special times on the water and in his home woodshop in Maine. They will have these memories forever.
Bob is predeceased by his parents and daughter Leslie.  He is survived by his loving wife Diane (Anderson) Deans, daughter Christine Deans Reynolds and son –in-law William and their children Benjamin and Owen Reynolds of New York City, His sister Margaret (Deans) Totten and brother-in law Richard of West Bath and brother Thomas Deans and sister-in-law Dorkis of Center Conway, New Hampshire. Along with several nieces and nephews. He will be fondly missed by his cruising friends and Quaker Point Family. His forever-pragmatic optimism, positive outlook and mission driven ideals cannot be replaced. He will be with us always.
A celebration of his life will be held at the Old West Bath Meeting House on January 27th from 2:00-4:00 Interment will be in the spring at the West Bath Cemetery. Condolences may be expressed to the family at www.funeralalternatives.net.
In lieu of flowers, donations in his memory can be made to Memorial Sloan Kettering Cancer Center online at: giving.mskcc.org or sent to Memorial Sloan Kettering Cancer Center P.O. Box 5028 Hagerstown, MD 21741-9901