« Obituaries | L. Ross Cummins
L. Ross Cummins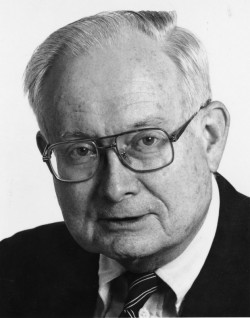 Date of Death: September 21, 2010
Date of Birth: April 1, 1919
Biography:
AUBURN - L. Ross Cummins, 91, of Auburn, Maine passed away on Tuesday, September 21st, 2010 at Clover Nursing Home. 
He was born in Orange, New Jersey on April 1, 1919, the son of the late Lester and Catherine Cummins. 
He spent his early life in New Jersey and attended Yale University with a B.S. in psychology.  During college he enjoyed participating in the glee club and played the trombone in the football band.  From 1941-42 he started work on a master's at the University of Connecticut and was employed part time as an intern psychologist at the state mental hospital. In 1942 he entered the Army as an enlisted psychologist rising to the rank of lieutenant and chief clinical psychologist at Battey General Hospital, Rome, Georgia.  He was released from the Army in 1945 to establish the Veterans Administration Guidance Center at Armstrong Junior College in Savannah, Georgia.  In 1949 he returned to Yale University to complete his master's and doctorate in psychology. He was a member of the faculty of Bates College from 1952 to 1989, and held the positions of professor, chairman of the department of education and psychology, and director of guidance and placement.  He was the mace wearer at commencement for many years.  He was president of the Maine Psychological Association in 1958 and remained a member of the American Psychological Association for many years.  He was married for 41 years to Margaret White Cummins, who enjoyed teaching second grade at Pettingill School in Lewiston.  He was an avid world traveler who toured England, China, Norway, Greece, Italy, Russia, Australia, New Zealand and many other places.  He especially enjoyed frequent trips to London, where he had spent one of his sabbaticals. After his retirement from Bates, he continued to enjoy participating in Bates events, traveling to Tennessee to visit family, and spending vacations at the Maine coast.  He lived at Schooner Estates in Auburn for many years. 
 He was predeceased by his wife, Margaret, on November 25, 1983. 
He is survived by one daughter, Jane Cummins Fowler and her husband, Mike of Knoxville, Tennessee; two step grand children, Amy McDonald and her husband Steve of El Segundo, California and John Fowler and his wife Suzanne of Knoxville, Tennessee; and four step great grandchildren, Hannah and Shelby McDonald and Ashton and Reese Fowler. 
Family will receive friends at a memorial reception, Friday, September 24th, 2010 at 3 PM in the Camden Living Room at Schooner Estates, 200 Stetson Road, Auburn.