« Obituaries | Lloyd Francis Coombs Jr.
Lloyd Francis Coombs Jr.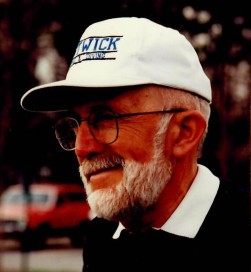 Date of Death: June 28, 2023
Date of Birth: July 20, 1934
Biography:
Lloyd Francis Coombs, Jr., 88, died June 28th at Hill House in Bath. He was born July 20, 1934, in Bath to Lloyd Francis Coombs and Edith Pushard Oliver. He grew up in Bath and graduated from Morse High School in 1952.
Lloyd worked for 43 years for the US Navy at SupShip Bath as a contract negotiator and later as Director of Internal Operations. After retiring from SupShip, he was the town administrator in Woolwich for 10 years. He was also a member of the Woolwich Selectman both before and after his time as town administrator. Lloyd was a 60 year member of the Masonic Solar Star Lodge #14 in Bath, and also a Kora Shriner. He was a swimming official for decades and was also a Lacrosse ref for a few years. He was active with the Patten Free Library Board of Trustees, and later made a Library Corporator. For many years he was active with the Bath High School Alumni Association, including a term as President of the organization. Lloyd was also heavily involved with the Morse High School Scholarship Fund and the Woolwich Historical Society.
Lloyd was very civic minded and volunteered in many arenas in the Woolwich and Bath Communities, receiving the Spirit of America Award from Woolwich in 2015.  He also enjoyed spending time with his family at their King's Point cottage on the New Meadows River. He was an avid sailor and liked to share his lifelong knowledge of the river and surrounds. He loved to note that he had swam in the river every year of his life—his last time waterskiing was on his 80th birthday.
Lloyd was predeceased by his parents Lloyd Sr and Edith.
He is survived by his wife, Collette Coombs, son, Ben Coombs, his wife, Molly and their children, Aloise and Samuel. He is also survived by his brother, Richard A Coombs and his wife, Patricia P Coombs, their daughters Pamela Underwood, and Kathi Coombs; plus their children and grandchildren.
A memorial and celebration of life will take place at the Bath Golf Club on September 10th, 2023 at 2:00 pm.
In lieu of flowers, donations may be made to the Morse High School Scholarship Fund, PO Box 1030, Bath ME 04530.