« Obituaries | Lorraine "Tuffy" Cloutier
Lorraine "Tuffy" Cloutier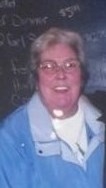 Date of Death: May 15, 2014
Date of Birth: September 12, 1946
Biography:
Augusta -- Lorraine "Tuffy"Cloutier 67, died peacefully at Maine Medical Center, Portland, on Thursday May 15th, 2014 after brief illness.
She was born on September 12, 1946 at Augusta General Hospital in Augusta, the daughter of Emily and Joseph Z.Cloutier.   She attended St. Augustine Grammar School, and graduated from Cony High School in June of 1964.
She is a member of the St. Augustine Catholic Church of Augusta.  Lorraine worked for the Maine State Retirement until her retirement on Sept. 12, 2006.
Lorraine was an avid sports fan, her favorite Boston Sox, Patriots and the Portland Sea Dogs.  She loved all water activities whether ocean or lake front.  She really enjoyed playing cards, her daily crossword puzzles, going to the casino and loved to travel.  Those who knew Lorraine enjoyed her gregarious love of people, unbelievable memory of detailsand unique sense of humor.  Lorraine was always the life of the party.
Lorraine was predeceased by her parents; a sister Dorothy; and niece Rhonda Cloutier.  She is survived by a sister, Violette Holts, a brother Roland Cloutier&wife Carolyn, niece MarleneSiemer and nephew James Holts, several cousins; lifetime friend Susan Desjardins and her extended family of friends.
The family wishes to thank the Augusta EMT and Fire Dept. for their heroic efforts for Lorraine. Deepest thanks to the wonderful professional staff of doctors and nurses at Maine MedicalCenter, CICU for their dedication and kindness.
 A Celebration of Life gathering will be held Monday, May 19th at Lisa's Restaurant, Bangor Street, Augusta, from 5:00 PM to 7:00 PM. All family and friends are invited to share their favorite remembrance of Lorraine.
A Funeral Mass will be held and burial to immediately follow on Wed.May 21 at St. Augustine Church Augusta at 1:00pm.
In lieu of flowers donations would be appreciated for a special memorial plaque. Send to Violette Holts, 6 Fowler Street, Augusta, ME 04330.