« Obituaries | Luc R. Caron
Luc R. Caron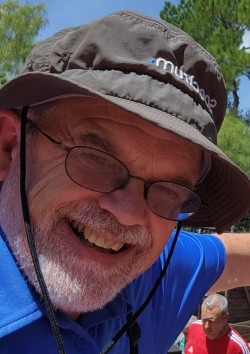 Date of Death: January 26, 2023
Date of Birth: December 24, 1958
Biography:
Luc R. Caron, age 64 of Lewiston, Maine, passed away after a short battle with lung cancer on Thursday, January 26, 2023 surrounded by his family. He was born on December 24, 1958 to Roland and Muriel in Lewiston, Maine. He was a 1975 graduate of Lewiston High School and married the love of his life, Denise Pouzol on October 20, 1984, and together they had 3 children.
Luc truly lived life to the fullest through: working for the cable company, boy scouts, geocaching, visiting Disney World, going for walks with his favorite 4 legged girl, Zoey, and spending time with his family, especially his grandkids. He had a way of bringing such joy and happiness to all around him through songs, dances, and his overall "it is what it is" attitude.
Luc was not only an amazing husband and dad, but also a one of a kind mentor, leader, and friend. The relationships he created with the people in his life were so unique and special to him. Luc will be lovingly remembered by his wife of 38 years, Denise and his children, Nicole (Jeremy), Jeremy, Michelle (Michael). "Pepere" (Luc) will also be fondly remembered by his 4 grandchildren, Kaida, Mia, Kaysen, and Maverick. He is predeceased by his parents Roland and Muriel.
A Celebration for Life in memory of Luc will be held on Monday, February 6, 2023 from 2-4 p.m. at Funeral Alternatives in Lewiston, Maine. Disney attire, suspenders, and/or flannels are strongly encouraged and in lieu of flowers, donations can be made via check to Troop 160 Memorial Scout Camp or through this link: https://www.paypal.com/donate?hosted_button_id=26PW896CTECW6
Let's "keep the fire burning" for Luc
The family wishes to send a special thank you to Denise's sisters, Lisa and Joanne, the pulmonary specialists at Central Maine Pulmonary (Dr. Chan and Dr. Ennacheril), and to the staff at Androscoggin Hospice House for their care and compassion.