« Obituaries | David Breyer
David Breyer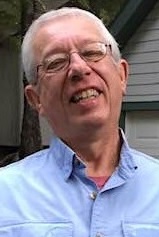 Date of Death: February 6, 2019
Date of Birth: September 23, 1947
Biography:
HARPSWELL - Family and friends near and far are mourning the loss of David ('Doc') Breyer who passed away unexpectedly at his home on February 6, 2019. He was 71
He was pre-deceased by both parents, Joe and Hazel (Frye) Breyer. He is survived by his wife, Georgia of Harpswell ME, long-time partner in all things both serious and fun and by three adult children: Charles Allen (Susan Moshier) of Bath, Lisa Forsyth (Kenneth) of Haverhill, MA and David (Teresa) Breyer of Bartow, Fl. His two grandchildren, David James and Rebecca Breyer brought him enormous pride and joy as he watched them grow into adulthood.  His sister Roberta (Edward) Teitelbaum of Silver Spring Maryland was his special, secret family treasure. He held her and his nephews Steven, Joel and Daniel and their families close to his heart.
David grew up in Greensburg Pennsylvania, attending local schools. He was graduated from Penn State University for both undergraduate and graduate degrees, then earned a PHD from the University of Pittsburgh in Business Management, ('82).  He spent nearly fifty years as an educator, preparing other young men and women for their careers at Indiana University PA, Suffolk University of MA and Southern NH University before hitting his zenith as on-line adjunct faculty at University of MA, Lowell – Manning School of Business.  One of the proudest moments of his long academic career was to be asked by that university to develop a course in Leadership and teach it to on-line students in Japan.
He took his work but never himself too seriously and this aspect of his character made him wholly accessible to his students who frequently sent emails or personal notes to him to thank him for the one to one attention and help he gave to them on some subject or other. Over the years, many past students became part of his larger circle of friends and could be found on the deck at Casa Breyer, enjoying a meal, good conversation and, always, a few laughs.
What started out as a part time hobby forty years ago became his part time avocation.  Doc became interested in refinishing and restoring antiques. He refinished and restored antique furniture and lighting. He bought and sold items from homes and at auctions developing a skill set and a business that earned him the respect of his peers for his knowledge, restoration skills, kindness and honesty in business; a strong reputation that his family will strive to continue.  His actions often seemed unintentional but were quite focused and directed. Referred to as the "Breyer Method" by his friends, admirers and loved ones, his actions spoke volumes.  His secret weapons for success and happiness he claimed to have learned from his father: unfailing honesty to self and others, constancy in one's actions and beliefs, kindness to everyone, particularly when unexpected and, benevolence to those less fortunate.
His greatest legacy is reflected in his family and many longtime friendships.  Comments from family and friends at his passing include:
"He was always doing kind things for so many; bringing a lucky penny or a rock he found; flowers for the bank tellers…."
"He was a teacher, mentor, lunch buddy and business coach; encouraging plans and dreams into action."
"He had the best grin and was as much at home in the world of antiques as in the world of new technology."
"Whether burnishing the hardware on a 100 year-old bookcase, prompting an insight in the mind of a student or raising issues of political importance, he was always creating something fresh and lasting."
Doc loved (and fed!) all furry and feathered creatures in his backyard. He loved regular lunches downtown with his pals,  his 'little girl' Tansy (their dog), ice cream floats with orange soda and vanilla ice cream, teaching in any format, antique furniture and lighting restoration, helping others in quiet non-splashy ways, a good shaggy dog story, puns, making the rounds at his regular 'haunts' around town, challenging others to think critically, landing a good antique score, music-especially early jazz, the happiness and joy in his life and discovering the rest of Maine with is 'dahlin' Georgia, walks in the woods and by the shore, the fact that marijuana use became legal in MA and Maine during his lifetime, searching for the best hot dog with his buddies, the Giant Stairs, having friends and family over for a meal, meeting new people, sleeping on the deck and sitting on the screened porch at home.  He recently told a friend, "My life is perfect. I wouldn't change a thing." Something each of us might think on any given day but fail to articulate.  To him, his devoted family and friends say, "Rest in peace, Doc. Your work is done.  For David – 4/20 and out.
According to his wishes, there will be no services. A celebration of life here in Maine will be planned for early summer. In lieu of flowers the family requests that donations may be made to a charity of the donor's choice or to any of Doc's three favorite charities: Midcoast Humane Society 190 Pleasant Street, Brunswick, Maine 04011, Paw in the Door https://www.pawinthedoor.org, and Big Brothers/Big Sisters of Bath/Brunswick 85 Maine Street, Brunswick, ME 04011.