« Obituaries | Lucille G. Bowie
Lucille G. Bowie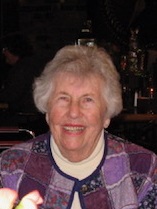 Date of Death: February 1, 2023
Date of Birth: March 26, 1929
Biography:
Lucille G. Bowie passed away peacefully at the Hospice House in Auburn on February 1, 2023.
Lucille was born on March 26, 1929 in Taunton, MA, the daughter of Charles and Florence (Witherell)Williams. Upon graduation from high school, she attended the University of New Hampshire. While working in the summer as part of the staff at the Poland Springs House, she met her future husband, Frank M. Bowie of Durham, at the Poland Dance Hall. They were married on April 15, 1950 and happily danced through life together for the next sixty-two years until Frank's death in 2012.
Frank and Lucille took up residence at Bowie Farms in Durham, building their own house there. Lucille, while busy as farmer's wife, worked in the office at US Gypsum in Lisbon as well as driving the school bus for Parker School. After their three children were born, Lucille returned to school and completed her degree in education. She started her career in teaching full time in Pownal as their third-grade teacher. Later, she completed her certification in special education and taught in Auburn for many years. After retirement from teaching, she started working for LL Bean at the call center in the Peck Building in Lewiston and worked there for more than ten years.
Lucille loved to travel especially cruises, and with friends and family enjoyed many wonderful trips around the world. The Campfire Girls had a special place in her heart and their adventures together were infamous. She maintained many great friendships through Red Hats and later her canasta group played on even through Covid via Zoom. Lucille had a beautiful voice and was a member of the choir at the Durham Congregational Church. Her weekly group sessions at Sue Biddle's house were an inspiration for many beautiful quilts that will be treasured by her family.
Lucille was also and most importantly, a wonderful mother and grandmother. She is survived by her children Jeff (Becky) Bowie of Buford, Georgia, Betsy (John) Talbot of Durham, and Eric Bowie of Harpswell and grandchildren Josh (Kathleen) and Hannah Bowie, Andrew and Patrick Talbot, and Karen (Brent) Belligio. She also had four great-grandchildren. We were blessed to have her with us for so long.
A graveside blessing and celebration of life will be held at the Parker Cemetery on Bowie Hill in Durham, Me at 11am June 10th, 2023. We want to think the staff at CMMC, especially Dr. Herman, and at the Hospice House for all their kindness and excellent care. Condolences can be expressed at www.funeralalternatives.net. In lieu of flowers, donations may be made to the Androscoggin Hospice House, 15 Strawberry Ave. Lewiston, ME 04240