« Obituaries | Elizabeth 'Bette' Benway
Elizabeth 'Bette' Benway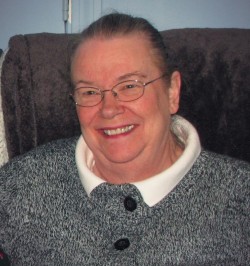 Date of Death: December 27, 2013
Date of Birth: January 7, 1944
Biography:
 Elizabeth Benway, 69, of Freeport, Maine and Bridgton, Maine passed away Friday, December 27, 2013 at the Gosnell Memorial Hospice House in Scarborough, Maine.
Bette (as she preferred to be called) was born January 7, 1944 in North Conway, New Hampshire to Beulah and Clifford Blake of Bridgton where she grew up. She spent many summers on her Uncle's Farm in Brownfield and shared many fond memories of that time with her family.
After graduating from the University of New Hampshire with a degree in Mathematics, Bette began her long career as an educator teaching Math at the High School and Collegiate level. She retired from the University of Maine as an adjunct faculty member after many years of helping students master statistics. Bette was an active member of numerous committees during her residence in Freeport helping to promote education and spent many years as a private math tutor.  She also worked part time as the head bookkeeper and office manager for one of the Town of Freeport utilities. After retiring she moved back to her childhood home in Bridgton spending the last eight years there. She became a member of the local Red Hat Society and enjoyed their support and friendship.
Bette is survived by her son and daughter-in-law, Dayton and Nichole Benway of Freeport, her grandson Colby; her daughter and son-in-law Cathy and JT Tyler also of Freeport and her grandsons Connor Brown and Asher Tyler.
A graveside service will be held in the spring at the family plot in Brownfield, Maine. Details will be sent out to friends and family at that time. In lieu of flowers, donations may be made to the Gosnell Memorial Hospice House:
Hospice of Southern Maine
180 US Route One, #1
Scarborough, Maine  04074