« Obituaries | Donna D. Barnes
Donna D. Barnes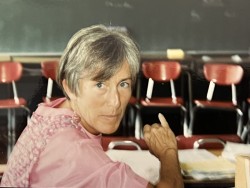 Date of Death: November 28, 2022
Biography:
Donna d'Entremont Barnes, a longtime Maine educator, died Nov. 28 at her home in Topsham, Maine. She was 80.
She was born to parents Charles and Mary (Dowcett) d'Entremont on February 4, 1942 in Boston. She graduated as salutatorian of her class in Needham, Mass. before going to Trinity College in Washington, D.C. After graduation, she began a four decade career as a teacher, specializing in writing and reading.
She moved to Maine in 1970, to teach the kindergarten through second grade class on North Haven Island along with her first husband, Richard Barnes, who also taught at the small school. While there, Donna began her focus on literacy, becoming popular with students and their parents for her skills. But she also became frustrated with the teaching tools of the day, worried
that they were failing some students.
When they left North Haven, Donna pursued her master's degree at the Harvard Graduate School of Education while serving as Head of House for Freeman Hall at Wellesley College. There Donna advised and counseled undergraduates, building skills that she would use throughout her career as a mentor and teacher leader.
Returning to Maine, she spent the bulk of her career in North Berwick, as a reading specialist and elementary classroom teacher. Working with her husband, Robert Griffith, she created a multiage classroom at the Mary Hurd school that combined students in grades 4, 5 and 6 to help children learn from each other.
Donna was a leader in a group of teachers in the 1980s and 1990s who helped popularize and spread a new kind of writing education, initially pioneered by Donald Graves Link to Article at the University of New Hampshire. The writing process, still taught in schools today, showed students how to draft, revise and edit their work before publication. (A tip Donna loved to emphasize, which is still good advice: Read your draft out loud to yourself before you submit it.)
With her students in North Berwick—and her own children, Caitlin and Julian, in Cape Neddick—Donna instilled a belief that good writing required revision after revision. But she also helped spread the new ideas about how to teach writing more widely, lecturing at the University of Southern Maine, speaking at conferences in the United States and Canada and taking part in a task force to infuse principles of the writing process into national teaching standards.
With Katherine Morgan and Karen Weinhold, Donna co-authored the book "Writing Process Revisited" Link to Article which explored how teachers were putting the new form of writing education into
practice in classrooms.
To better teach writing, Donna believed teachers should write. Her poem, first published in Language Arts magazine in April 1991
Link to Article, chronicled the hurdles students found in trying to write and the difficulty she found in her own life to find time for creative writing.
Why can't I write? Because
Mrs. Barnes, can I start over? I messed up, and I can't erase the whole
thing.
Why can't I write? Because
Mom, what's for supper? I'm starving!
Donna retired from teaching in 2004, spending her summers with Bob on Damariscotta Lake in Jefferson, Maine where she entertained and cared for four grandchildren, Walter, Sasha, May and Natalia. She also raised two very good dogs, Rachel and Carson, at the lake—both of whom were well behaved and lived joyful lives.
Throughout her entire life, Donna was truly exceptional at anticipating the needs of others— well before they realized it themselves. She was always ready with a snack, a meal, a rainy-day activity or aptly-timed suggestion for a change of pace.
And, in retirement, she continued to write, always keeping a journal of the books she read and her reactions to them.
Her survivors include her husband of more than 30 years, Robert Griffith; her daughter, Caitlin Ruthman, and her husband, Jared Ruthman of Yarmouth, both teachers; and her son, Julian E. Barnes, and his wife, Katherine Marsh of Washington, D.C., both writers.
Donna absolutely, positively did not want a funeral, so there is no way that will be happening. But she did not object to a party. Therefore, when the weather turns nice in Maine, keep a lookout for an invitation.
Memorial donations can be made to CHANS Home Health & Hospice in Brunswick https://www.midcoasthealth.com/giving/donate/
or the Midcoast Conservancy in Edgecomb. https://www.midcoastconservancy.org/donate
Alternatively, in memory of Donna, simply remind your children that whatever they are writing will be improved by another draft.