« Obituaries | Michael David Sloat Arnold
Michael David Sloat Arnold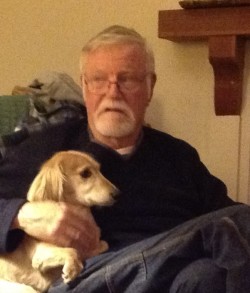 Date of Death: April 30, 2023
Date of Birth: November 16, 1938
Biography:
Michael David Sloat Arnold
Michael died peacefully mon Sunday, April 30, at The Garden where he was a resident. After a serious fall, he was placed in hospice care where he was lovingly cared for by CHANS until is passing. He was predeceased by parents, Helen (Honey) Sloat Arnold and Harold Arnold, sisters Betty and Brooke, bothers Alden (Buddy) and Richard.Born in Bucksport, Maine and attending schools there, he excelled in academics and the dramatic arts, where he showed his true talents. After high school, Mike enrolled in the Army and attended the Language School where he learned German and Russian. With the GI bill, he became a student at the University of Maine, majoring in English Literature. While working part time in the college library, he enjoyed the work so much that he decided to get a Master's Degree in LIbrary Science, also at the U of Maine.
As a full-fledged librarian he moved to New York City where he was hired at the Ford Foundation. While in New York, he met his future wife, Linda Moss, a nurse. Together they moved across the country to San Francisco, where Mike found work at the SF Public Library Business Branch. When the branch closed he moved back to the main library to work until his retirement.
Becoming discouraged with San Francisco and the preponderance of street people he wanted to return to his roots in Maine. Linda agreed and together, with their two cats, moved to Brunswick, where brother Richard and wife Cynthia lived. He was delighted to be back hoime with family. He worked briefly at Curtis Memorial Library in town until he retired once and for all from librarianship.
With a new home and several acres of land, gardening became his renewed passion and his extensive flower gardens at their home on Woodside Road were featured several times on the Garden Tour. Seeking a still simpler life, they moved to a smaller home on Merepoint Road and from there to a condo at Birch Meadow.
Mike is survived by a sister, Mildred (Cidy) Eames and niece Karen,and sister-in-law Cynthia Arnold. There will be no service per his request. Donations may be made in his memory the MicCoast Humane in Brunswick.