« Obituaries | Laurence L. da Gomes
Laurence L. da Gomes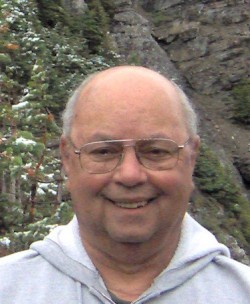 Date of Death: April 16, 2012
Date of Birth: January 3, 1937
Biography:
Laurence L. da Gomes, 75, of Lisbon Falls died early Monday, April 16th, 2012, at his home.
He was born in San Francisco on January 3rd, 1937 to mother Lilliana. He attended schools in Ukiah and San Francisco, CA.
Laurence served in the US Air Force during the Korean Conflict and was honorably discharged in 1961. He studied theater and enjoyed working as an actor for a period of time. Prior to his move to Maine, he worked at Smith Industrial Supply in San Francisco for seven years as an Office and Inside Sales Manager. In 1979, he moved to Maine and began a 22 year career at BIW, working as a sandblaster and later as a logistics provisioner, retiring in 2001. On February 17th, 1983, He married Patricia, the love of his life. They had nearly 30 happy years together raising a family, traveling, and doing the morning crossword puzzle. Larry was very active in AA and NA, sharing his experience, strength and hope with others, and had been clean and sober since June 8th, 1968. He placed importance on reflection and practiced annual spiritual retreats. Larry was intensely curious and had diverse interests from theology to astronomy and spent many hours in the library exploring his most recent passion. He enjoyed music, writing, fishing and working out. He was passionate about sports, football being his favorite. He loved spending time with family and friends.
Larry leaves behind his wife Pat, brother Anthony Lopez of San Francisco, son Michael and partner Jillian of Lisbon, stepdaughter Amy Brents and Husband Scott of Lewiston, and grandchildren Shaun and Abigail da Gomes, and Gabriel, Joseph and Elijah Brents. Larry also leaves behind three daughters, Rita, Virginia, and Delores in California. Larry touched the lives of many and will be greatly missed by his friends and family.
A memorial mass will be held at 11am Friday, April 20th, 2012 at Basilica of Saints Peter and Paul 122 Ash St., Lewiston. Committal prayers will follow at St. Peter's Cemetery, 217 Switzerland Rd, Lewiston.