« Obituaries | Muriel Gwendolyn Zuch
Muriel Gwendolyn Zuch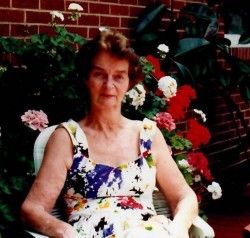 Date of Death: June 19, 2019
Date of Birth: March 7, 1919
Biography:
Muriel Gwendolyn Zuch, age 100, died on Wednesday, June 19, 2019.
She was born on March 7th, 1919 in Dorset, England, the daughter of Herbert and Gwendolyn Harris Brunt.
She came to the USA via the ship Queen Mary and was met by her fiancé, Robert T. Zuch, when she docked in New York City on November 25, 1947. Muriel was married on December 27th, 1947 in Marietta, Pennsylvania, to Robert, whom she met while he was stationed in England during World War II. Muriel met Robert on April 22, 1945 when they were introduced by a mutual acquaintance at Tewkesbury Abbey.
Muriel lived in Lancaster and Philadelphia, Pennsylvania; then in Connecticut and Kyoto, Japan, where Robert served as a Lutheran missionary. After returning to the States, she lived in Hamilton Square, Strausstown, Easton, Claysburg, and Dubois, Pennsylvania where Robert served as a Lutheran minister. Later in retirement they lived in Contoocook, New Hampshire and finally Muriel lived n Yarmouth, Maine from 2000 to present.
Muriel was a homemaker most of her life. She was a skilled watercolor artist and sold many paintings in addition to offering lessons. She was also highly accomplished in embroidery, sewing, knitting, and tile painting. She enjoyed classical music, the opera and gardening and had a special knack caring for African violets. Her cooking drew raves, and her pie making skills were renowned. Lemon meringue and apple topped the list of favorites.
Muriel's greatest joy was being with her children and grandchildren. Her loving, nurturing manner and her gentle, intuitive wisdom and quiet patience brought comfort and solace to her family and touched all those who knew her and cared for her later in her life.
Muriel was predeceased by sisters Daphne Massey and Margaret Harbutt and her beloved spouse Robert T. Zuch. She is survived by her sister Christine Stallard of Malmesbury, England and her five children, Daphne McNew and husband Steven of Easton, PA, Rachael Bradley and husband Scott of Freeport, ME, Naomi DeLairre and husband Cross of Winchester, MA, Gregory Zuch and wife Carolyn Sirois of Winchester, MA, Leah Zuch and husband Richard Lewis of Portland, ME; five grandchildren, Ian DeLairre, Brianna DeLairre, Sadie Zuch, Jacob Zuch, and Hannah Bradley.
She will be greatly missed by her family here as well as her family in England.
Family and friends are invited to a funeral service at South Freeport Church, on Thursday, June 27 at 1:00 PM. Committal service will follow at Riverside Cemetery, Yarmouth.