« Obituaries | Mary A. Zill
Mary A. Zill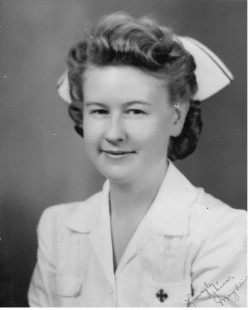 Date of Death: December 29, 2017
Date of Birth: July 7, 1922
Biography:
Mary Alice Zill, 95
Life Sketch
Cumberland Foreside, ME

Mary Alice Zill fell asleep in Jesus during the early morning hours of Friday, December 29,2017, at Ledgeview Assisted Living, where she had been lovingly cared for.

She was born July 7, 1922 at home to Robert A. Benedict and Mary Love Benedict in Shreveport, LA, where she spent her formative years. She loved role-playing as a child, most often casting herself as a "missionary"—an oft-repeated desire she expressed at a very early age. Her little sister would tag-line with, "And I'll be the heathen!" Mary completed grades 1 through 8 at the Shreveport SDA Church's Church School.

Mary Alice attended Southwestern Junior College in Keene, TX, then graduated and entered nurses' training at Florida Sanitarium and Hospital in Orlando, FL. She completed the course, graduating from the Florida Sanitarium Nursing Program in September 1946. In December of that year married her sweetheart, William Forrest Zill, an Army medic. He was of the many visiting military members her parents invited home for lunch after church throughout the war.

Once out of the army, Mary and Forrest, as he was called, moved to Collegedale, TN where she worked as an RN in a local hospital while Forrest attended Southern Missionary College for an education interrupted by military service in WWII.

Together they set sail for India in 1951, responding to a call for mission service from the General Conference of Seventh-day Adventists. Mary Alice was 3 months pregnant when they set sail, and their eldest daughter was born in Bangalore, where they spent their first 9 months attending language school in preparation for their assignment in Telagu-speaking Andhra Pradesh. From Bangalore, they moved to Narasapur, where Forrest served as Principle of Narasapur High School. Kathy was born in Nuzvid Hospital two and a half years later.

Ever desiring to serve others, Mary Alice cared for students and villagers alike, operating a small clinic open to all. She cared for a wide variety of illnesses and injuries—those cut with sickles during rice harvest season (or during an assault), babies with gastric problems, one that was fed mercury, those with infected wounds, and those affected by parasites. Eldest daughter Karen helped with translating at times, and during these exchanges and observations decided she too wanted to be a nurse. Mary Alice was most-often referred to as Memsahib; to some, she was "Ummah," meaning mother.

Mary Alice and Forrest returned to the United States in 1958 for a year-long furlough. Forrest again furthered his education and completed a master's in religion and education. After which, they returned to Narasapur High School and resumed their respective responsibilities.

In 1963 Mary Alice and Forrest moved to Poona (now known as Pune), where Forrest taught classes in history and religion, and managed the audio-visual department—one of his many interests. Mary Alice filled in where she was needed; she bussed faculty children across town to attend the Poona English Grammar School (grades 1-6) and picked them up each day. Later, when both Kathy and Karen attended Vincent Hill School, which followed the American system rather than the British system of education, Mary Alice worked in the registrar's office at Spicer College.

When they returned to the United States permanently in 1971, Mary Alice faced adapting to the huge changes two decades made in the nursing field. While Forrest reoriented himself with classes at Andrews University in Berrien Springs, MI, Mary Alice attended a nursing refresher course in Kalamazoo. She resumed work as a night nurse to off-set college expenses for Karen and Kathy. She continued to work the night shift in either community hospitals or nursing homes during the years Forrest pastored in the Key West/Marathon SDA Churches, in New Port Richey, and Daytona Beach. Mary Alice officially retired in 1989.

When Forrest retired in 1989, they built their retirement home in Apopka, FL to be near their two daughters. Mary Alice continued to do what she loved to do—feed people and take care of Forrest during his health challenges.

Mary Alice loved people. She loved to watch them. She loved to talk to them. She loved to feed them. She loved to give to them. This is etched into every memory of her. She held a branch Sabbath School for children on the wide front porch of the Narasapur bungalow; she held sewing & embroidery bees on the same porch. While daughters Karen and Kathy were away at boarding school, she sent yummy "care packages" that cheered more than just her daughters. It wasn't uncommon during the walk home from church at Spicer College for Mary Alice to suggest to a neighbor, "Why don't we throw our lunches together." What followed were impromptu meals with curious combinations and warm fellowship.

In the last few years of her life, and especially after Forrest died, Mary Alice's world shrunk into the past, and it seemed to be a daily challenge for us to figure out where she was in time. Usually there were enough clues that we could identify where she was in her perceived time. Sometimes she was readying patients for OR (in her nursing years while Forrest was in college), sometimes she was making sure the students were cared for (in the girls' hostel in Narasapur), sometimes she HAD to "Make sure Daddy would get there in time for prayer meeting," (in his pastoring days), and sometimes she was just making sure we saved some of her food, "So Daddy has some of this supper." Always, she was at work, had to do something, or was serving someone. Dementia couldn't rob her of desire to serve.

Mary Alice was predeceased by her parents and adored husband William Forrest Zill. She is survived by her sister Roby Love Hightower of Carson City, Nevada; daughters Karen Landa of Cumberland Foreside, and Kathy Higgs of Apopka, FL; Grandson Michael Kierstead, granddaughter-in-law Rowena, and great-grandson Kyle of Fort Lee, Virginia.

Mary Alice wanted to be cremated, and her wishes were honored by arrangements with Funeral Alternatives in Yarmouth, Maine. There will be a small, informal memorial service in the Brunswick SDA Church gathering room on Saturday. February 17 at 2 PM.

In lieu of flowers, contributions in Mary Alice's memory may be made to: Child Impact International (Formerly Asian Aid) c/o Judy Sabnani, 129 Pownal Rd., Freeport, ME 04032; these will be used to sponsor education of a child from Andhra Pradesh, India.