« Obituaries | Esther E. Young-Coombs
Esther E. Young-Coombs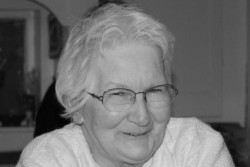 Date of Death: April 18, 2018
Date of Birth: August 18, 1938
Biography:
Esther E. Young-Coombs—Livermore Falls—Esther E. Young-Coombs, 79, of Livermore Falls, died April 18, 2018. She was born in Auburn, Maine, daughter of Charles H and Grace L Hodgkins Eveleth. She was a 1958 graduate of ELHS and journalism and poetry courses.
Esther wrote for "Bear Facts of Maine", including the Lewiston-Auburn column and the "Oliver the Bear" stories, and was a published poet.
Esther is survived by children, Sherri Eveleth and Steve of Livermore Falls, Janet Mansfield of Turner, Larry Wood of Bangor, John Wood and fiancé Theresa of Livermore, and Kimberly Farrington Pugh and Bob of Goldfield, Iowa, many grandchildren, great grandchildren, nieces and nephews. Esther is preceded in death by husbands Roy Young and Orrin "Jerry" Coombs and a grandson.
Esther requested no funeral services and any funds for services be applied to grandchildren's educational costs. Donations and condolences may be sent to Sherri Eveleth, 486 Park St., Livermore Falls, ME.