« Obituaries | Lona A. York
Lona A. York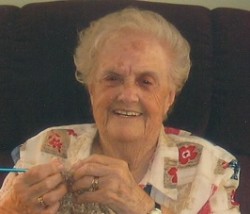 Date of Death: December 29, 2015
Date of Birth: September 30, 1914
Biography:
N. YARMOUTH - If you wanted to paint a picture of a woman perfectly happy with her place in the world it would be the face of Lona Amelia York who died on December 29, 2015.
She was born in Wilkie, Saskatchewan, Canada on September 30, 1914. She later moved to Prince Edward Island as a child and that was the Province she proudly called home. She attended schools in Pownal, PEI and received a diploma from the Charlottetown Business College in P.E.I. in 1934.  In 1950 she emigrated to the U.S. Since September 2012 she has held the Town of North Yarmouth Boston Post Cane award.
With her passing she left a yearning in the hearts of all who knew her to have more people share the traits she was born with and there were many. She will be remembered for her beautiful smile and great sense of humor, and her love of family and those she considered family. Without question, she was happiest when she was surrounded by her family and her love was an anchor for them all. Good times and bad were always made better by Nan. She received many bouquets in her lifetime but the bunch of field daisies, bluets, dandelions, anything handpicked by a son, daughter, grandchild, or anybody, brought her the most happiness. And where art was concerned, her walls and table tops were full of portraits, handcrafted needlepoint, drawings created with crayons, and knickknacks made of bread dough or painted rocks. No matter what the gift she was given she always made sure the giver knew how much she loved it and proudly displayed it in a place of honor.
Lona had a sweet disposition; she would shed tears when she was sad and when she was happy as well. Although, she didn't have a temper or contained it, there was that one time her meal choice came under fire – only once! The funniest story about her was the Saturday night that her husband Cal came home to find a meal of fish instead of beans and hot dogs put before him. Now, for her husband Calvin there was an unspoken expectation that you always had beans and hot dogs on Saturday nights. But this particular night he came home and made the mistake of expressing his disappointment and she in turn, without speaking a harsh word, with her "Eyebrow up" took his plate threw the food out and then calmly emptied the freezer of all the various kinds of fish he had caught over the previous months and "scaled" (that was her word for threw) them all over the frozen winter driveway! The following morning as we gathered for a Sunday dinner we all saw the fish all over the place – we had no idea what had happened but couldn't wait for what we knew would be a great story!
She also had a love of music. She loved music be it piano which she played lovingly or a gathering of family and friends to have a "Hum". She also taught her children that music came in all forms – a blade of grass, a dandelion stem, or a cardboard tube wrapped in wax paper at one end made for wonderful whistles and horns and a pot or a pan could be a great drum.
She gathered much enjoyment in baking and cooking too. She excelled at cooking and baking and for years she hosted her children, grandchildren, their friends, and don't forget their pets, for a feast on Sundays. And when holidays came around they were always celebrated with a magnificent supper at Nan & Gramp's house. She also would not think of sending her husband and children off to work or school without a lunchbox filled with a sandwich made with homemade bread and a scrumptious dessert.
Her generosity was unwavering. For many years she donated the most perfectly peaked lemon meringue pies to benefit the North Yarmouth Fire Department. In her later years she knit countless mittens and pot holders for the Salvation Army and crocheted multiple Afghans to be auctioned by the "Sturdivant Tuna Tournament" to aid in scholarships for various community colleges in Southern Maine.
Death can be mourned and celebrated at the same time. Though she'll be sorely missed, our family will recall the last verse of her favorite song "Yes, I think to myself, what a wonderful world!" That's how she viewed, lived, and shared her life with us all.
She is predeceased and will be reunited with her five brothers (Gordon, Earl, Lewis, Jack, and Roy), two grandchildren, one great grandchild, and her beloved husband Calvin.
Her spirit is carried on by her five children Earl, Terry, Patzi, Donna, Marlene and their spouses, 19 grandchildren, 25 great grandchildren, 14 great-great grandchildren with two on their way, her brother-in-law, her cousin, many dearly loved nieces, nephews, and an extended family of friends too numerous to list but not forgotten.
Should friends and family desire, contributions may be sent to ASPCA at: ASPCA, PO Box 96929, Washington, DC 20090-6929.
A private graveside service will be held in the spring at a date to be determined.