« Obituaries | Jacqueline "Jackie" J. York
Jacqueline "Jackie" J. York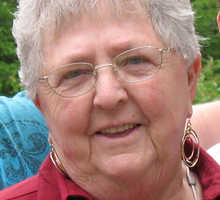 Date of Death: August 16, 2013
Date of Birth: October 14, 1937
Biography:
1937 - 2013
DURHAM — Jacqueline "Jackie" J. York, 75, of Durham, passed into the Glory Land on Friday, Aug. 16, in Durham, after a 16-month battle with cancer, with her family by her side.
Jackie was born to Cyrus Foss and Christine Worthley Foss in Madison on her father's birthday, Oct. 14, 1937. She was the seventh of 11 children, and attended West Grammar School and Portland High School. In 1953, she married Gary Culbert and they had five beautiful daughters.
She worked as a bookkeeper and secretary for 20 years. She owned and operated Big Syke Acres Campground in Durham for 10 years with her second husband, Frederick York, and daughter, Debra Vaughan. She also owned and operated Café Hannah for three years in Pownal with her daughter, Tammy Exel. Jackie worked on many crochet projects throughout the years and was an avid quilter.
Jackie was a member of First Parish Congregational Church in Pownal and most recently Grace and Truth Bible Church in Litchfield. She loved both of her church families and looked forward to the fellowship she received from them.
Jackie is survived by four daughters and their husbands, Debra Vaughan and Arthur of Lewiston, Judith Freeman and Joseph of Litchfield, Rebecca LeClair and John of Durham and Tammy Exel and David of Oxford; five Brothers, Kendall Worthley of Oakland, Russell Worthley of Virginia, Robert Foss of Freeport, Stanley Foss of Standish and Kenton Foss of Buxton; three sisters, Janet Alward of Virginia, Fredonna Asmus of Portland and Elaine Christensen of Gray; nine grandchildren; 16 great-grandchildren; her former husband, Wayne Gerrish of Kentucky; and her best friend, Annie Spaulding of Pownal.
Jackie was predeceased by an infant daughter, Diana Evelyn Culbert; great-grandson, Collin Lee Donham; first husband, Gary Culbert; second husband, Frederick York; and sisters, Carla Hineline and Marlene Black.
A memorial service will be held at 11 a.m. on Saturday, Aug. 24, at the First Parish Congregational Church in Pownal with the Rev. John Wentworth and the Rev. Neal Johnson officiating. Committal will be at Elmwood Cemetery after the service. A luncheon will be served following the service at the church. In lieu of flowers, please send donations to the Androscoggin Home Care and Hospice, 15 Strawberry Ave., Lewiston, ME 04240