« Obituaries | Louise Adelene Yeager-Twaddle
Louise Adelene Yeager-Twaddle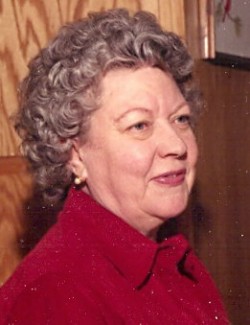 Date of Death: August 26, 2011
Date of Birth: August 15, 1921
Biography:
AUBURN-Louise Adelene Yeager-Twaddle of Auburn, died Aug. 26, 2011 at the Hospice House.
Louise was born in Rock Lake, N.D. on August 15, 1921 to Alma and Raymond Yeager. She graduated from Rock Lake High School and Secretarial School. She worked for the US Government until her marriage to Gard W. Twaddle JR on June 5, 1945. In 1971 she went to work for Liberty Mutual Insurance Company until her retirement.
Louise was a former member of the Lewiston/Auburn Girl Scout Council, a past president and member of the Women's Literary Union, past president and member of the Lewiston/Auburn Art Club, lifetime member of the Y.W.C.A., past president and member of the High Street Congregational Church Guild,and also a past member of the board of directors of the Hyde Home.
She is survived by her daughter, Jeanie Deletetsky and husband Philip of Auburn; grandson Gard
Deletetsky andwife Deneka (Fortier) Deletetsky, and great-grandson Zane Deletetsky of Lewiston; her sister Donna Kucher and husband Rudy of Grand Forks N.D.; her brother Laverne Yeager and wife Grace of Lisbon, N.D.; a very special niece, Mrs. Karen Aamodt of Grand Forks, N.D.; several nieces and nephews, and also her dear friend Jennifer Turner of Auburn, ME.
A memorial service will be held on Sept. 3rd. 11am at High St. Congregational Church in Auburn. Burial will be held privately at a later date. In lieu of flowers, donations can be made in Louise's  memory to the Dr. Gard W. Twaddle nurses endowment fund C/O CMMC Development Office 300 Main St. Lewiston, ME 04240
Arrangements under care of Funeral Alternatives