« Obituaries | Erin L. Wyatt
Erin L. Wyatt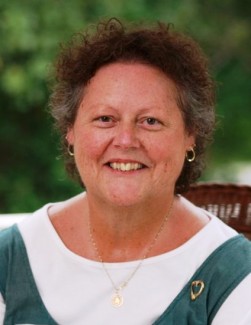 Date of Death: October 28, 2017
Date of Birth: September 28, 1956
Biography:
Erin L. Wyatt of Cumberland died peacefully at Gosnell Memorial Hospice House, Saturday October 28th, 2017.
She was born in Portland Maine on September 28, 1956, the 6th of 12 children of Dr. William E. Wyatt and Eileen L. Wyatt. She graduated from Greely High School in Cumberland Center and attended St. Jospeh's College in Windham. Over her career, she worked as a business manager in Portland, as a medical office manager in Falmouth, and as an administrator for Sacred Heart Church in Yarmouth, a job she loved.
Born in the middle of the family, Erin was the center of activities. She was a wise soul, a peacemaker, a care giver, a loving supporter to everyone. She was incredibly smart, and was the family historian with an ability to accurately recall names, dates, and events. 
Erin was a calm presence, but also adventurous, and always up for unique adventures to enjoy with others.  At one time she owned a motorcycle, and another time she filled a car with siblings, nieces, and nephews, and headed to Central Park for a Simon and Garfunkel concert in New York City.  Other adventures were car trips to Ohio, Virginia Beach, and western Massachusetts, and midnight screenings of Rocky Horror Picture Show. Over the years, Erin took classes for basket-making, jewelry-making, rug-making, and cooking.
She was always interested in seeing everyone at family gatherings, which were so special to her.  She loved camping at Baxter State Park with family groups.  She also loved boating, deep sea fishing, going out to breakfast, sitting on the front porch swings, working church suppers as cashier, cooking family meals, organizing holiday parties, and helping to care for the family quilts. She loved keeping chickens. Erin loved her cats and the family dogs, and always asked others about their pets, knowing how important they were.  She had a great sense of style and loved art work, jewelry, and handbags.
Most of all, she was the coolest most loving aunt who had time for play dough, a board game, or a tea party, who never forgot a birthday, and who could always tell the twin nieces apart.  She was very generous, giving interesting, unique, sometimes odd, but always special trinkets and toys as gifts.  
The week at Gosnell House was a pure gift of family time, reminiscence and love.  Special thanks are offered to Dr. Wasserman, Dr. Sihler, and the care given by MMC and Gosnell House Staff.
Erin is survived by her mother Eileen L. Wyatt of Cumberland, six brothers, four sisters, and many nieces, nephews, great-nieces, and great-nephews. She was predeceased by her father William E. Wyatt DO, and her brother David F. Wyatt. There will be a private family service in Buckfield at a later date. 
Contributions in Erin's memory would be appreciated, and may be made to the Animal Refuge League of Greater Portland (arlgp.org), to the Greater Androscoggin Humane Society (gahumane.org), or to the Gosnell Memorial Hospice House in Scarborough.