« Obituaries | James H. Word Jr
James H. Word Jr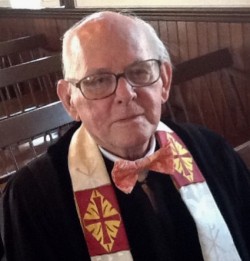 Date of Death: December 9, 2018
Date of Birth: May 22, 1926
Biography:
BRUNSWICK - Rev. James H. Word, Jr., 92, of Brunswick, passed away Sunday, December 9th, at his home, with his family at his side.
Jim was born May 22, 1926, in Leesville, Louisiana. After graduating from Leesville High School in 1944, he enlisted in the U.S. Navy, serving as a Signalman for two years. He then went to the Southwest Photo-Arts Institute in Dallas, Texas, graduating in 1948. Jim then moved to Arizona, where he responded to the call of God to the Gospel Ministry. He received his Bachelor of Divinity degree from Eastern Baptist Theological Seminary and was ordained in Bryn Mawr, Pennsylvania, by the Philadelphia Baptist Association in June of 1960.
After ordination Jim came to Maine to serve as a staff minister with the Maine Seacoast Missionary Society in Bar Harbor, serving several small churches around Cutler. He married Rosemary Nixon and started a family while there. Jim transferred to the United Methodist Church, serving as pastor in the Brooksville area, Presque Isle, Bath and Orr's and Bailey Islands, and Scarborough. He retired in 1986.
During his ministry, Jim served the community through his work with Alcoholics Anonymous. He was a member of the Maine Council on Alcohol and Drug Abuse Prevention and Treatment, receiving several awards for his service in that field.
After retiring from ministry, Jim married Barbara Harnish Small. He worked part-time for Grossman's in Brunswick, volunteered at the local food bank, and served as an associate pastor for the Orr's and Bailey Islands United Methodist Church. Jim, who called himself "a Tinker Man", built three houses after retirement and enjoyed puttering in his workshop, building furniture and toys for the grandchildren. He also enjoyed gardening, camping, and fishing...and he loved to shovel snow! Jim was well-known for his sense of humor and loved retelling his vast repertoire of jokes.
Jim is predeceased by his sons, Daniel Word and Stephen Word, and by his sister, Helen Smith. He is survived by his wife, Barbara Word, his daughters, Elizabeth Copeland and Jeanette Word, his sons, Thomas Word, Justin Small, and Abishai Rumano, eight grandchildren, eight great-grandchildren, and his former wife, Rosemary Word.
A celebration of Jim's life will be held at the Bath United Methodist Church, 340 Oak Grove Avenue, Bath, at 11:00 am, Thursday, December 13th. In lieu of flowers, contributions may be made to The Bath United Methodist Church, or to the United Methodist Committee on Relief (UMCOR).