« Obituaries | Helena P. Woodruff
Helena P. Woodruff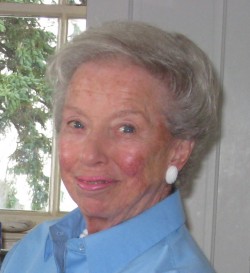 Date of Death: March 3, 2014
Date of Birth: September 24, 1922
Biography:
Helena P. Woodruff died peacefully in Topsham on March 3, 2014.  Along with her twin Julie, she was born to Philip and Helena Stewart Dalrymple on September 24, 1922 in Newton, Mass.  The girls graduated from Newton High School and Wheelock College, and were well-known in their community as gifted skaters, artists, and fun-loving young women.  They spent idyllic summers at their family's summer home on Kennebec Point in Georgetown, Maine.
In 1944 she married Frederick Woodruff in Newton, Mass., and they raised their three boys in Needham, Mass.  In 1958 she and her husband built a cottage of their own at the mouth of the Kennebec River where they all reveled in family boating activities and frequent family gatherings.  After Frederick died in 1968, she moved to South Natick where she lived until she retired.  Helena was a well-loved kindergarten teacher, first at Park School in Brookline, Mass., and then for 25 years in Natick, Mass.  In 1997 she moved to Blueberry Cove in Yarmouth where she enjoyed being close to her family, especially her sister, who was living in Falmouth.  Together they presented an attractive pair wherever they went, on the tennis court, at luncheons, and at PEO, a philanthropic sorority in which they were active members.  And she continued to relish her summers on Kennebec Point surrounded by her extended family.
Her survivors include her sister Julie Cerrone and her husband Warren, of Topsham, ME; her three sons, Frederick and his wife Jane of South Freeport, Peter and his wife Maggie of Arrowsic, and Scott and his wife Cathy Leonard of Brunswick.  She also leaves five grandsons,  Jonathan Woodruff and his wife Akiko Okusu of Amherst, MA; Nathaniel and his wife Courtney of Pelham, MA; Thomas and his wife Carrie of Ipswich, MA; Benjamin Woodruff of Bath, and Christopher Woodruff of Myrtle Beach, SC, as well as five great-grandchildren.
Her family wishes to thank the staffs of Cadigan Lodge and Friendship Cove at the Highlands, and CHANS Hospice for the exceptional care that they provided Helena during the past year.
A memorial service will be held in Georgetown this summer.  Memorial donations may be made to the Salvation Army. Condolences may be expressed at FuneralAlternatives.net