« Obituaries | Marvin W. Woodbury
Marvin W. Woodbury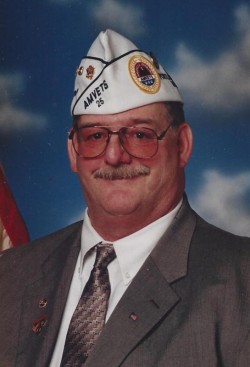 Date of Death: April 2, 2015
Date of Birth: April 25, 1948
Biography:
DURHAM – Marvin Wayne Woodbury, 66, of Durham, Maine completed his earthly journey on Thursday, April 2, 2015 with his loving family by his side.

He was born April 25, 1948 to Wilma (Lawless) and Charles Woodbury. He served two tours in Vietnam and would again serve his country and fellow Veterans through his tenure as Commander of the AMVETS Post 13, and then as the Service Officer of the VFW Post 88. Marvin helped countless Veterans with attaining their benefits they so rightly earned. His dedication to his fellow Veterans earned him numerous awards and accolades. He was a strong voice in the community serving as Durham Town Selectman and Past President and Day Chief of the Durham Volunteer Fire Department Inc. where he was known as "Radar".

Marvin married his soul mate Cynthia (Daly) on May 25, 1973. They spent the last forty-three years together raising their three children and enjoying their four grandchildren, as well as five "fur" grandchildren. Marvin was known as the life of the party. He often surprised family and friends by eating worms for twenty-five cents.
Marvin was predeceased by his mother, Wilma Adeline Perkins, his father, Charles Woodbury; his brother, David Woodbury, his sister, Jo Anne Moore; and two nephews, Justin Woodbury, and Benjamin Preston Perkins.

He is survived by his wife, Cynthia Woodbury; his children, Susan Kennedy and her husband Jason, Amanda Woodbury, Charles Woodbury and his wife Ashley; four grandchildren, Amber, Jacob, Mason, and Bentley; his brothers, Woody Woodbury, and Paul Perkins, his sisters, Laurel Mackie, Sandra Johnson, Linda Cooledge, Benita Anderson, Paula Boucher, Pamela Charles, Patti Perkins, Priscilla Henry, and Deborah Clark.

The family would like to thank VNA Home Hospice for all of their support. A special thanks to his nurse Suzanne, and social worker Erika Petri, and all of the Durham Fire and Rescue.

The Honor Guard will present Honors and a Memorial Service will be held at the Durham Fire Department on Monday, April 6th from 6-9 p.m. There will be a graveside service at the Maine Veterans' Cemetery chapel on Mount Vernon Road in Augusta on Tuesday, April 7th at 10:00 a.m with full military honors and a reception to follow at the Augusta V.F.W. #887.

Condolences may be expressed to the family at www.FuneralAlternatives.net.

Arrangements are under the care of Funeral Alternatives.