« Obituaries | Carol Ann (Stevens) Woodard
Carol Ann (Stevens) Woodard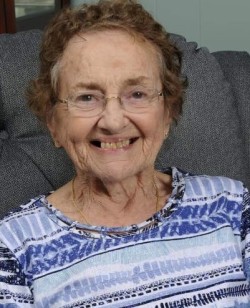 Date of Death: May 17, 2023
Date of Birth: March 13, 1936
Biography:
Carol Ann (Stevens) Woodard, 87, passed away in Lewiston on May 17, at Russell Park with loving family at her side. Carol was born to Millard and Dorothy Stevens on March 13, 1936 and grew up in Auburn with her sister Andrea (Stevens) Anderson (d. 2022). Carol attended Edward Little High School where she was voted prettiest girl in her class and participated in the marching band. In the 9th grade she met the love of her life and eventual husband Pennell "Penny" Woodard (d. 2016). Carol attended Bates College where she attained a medical technology degree. She subsequently worked at Pineland Hospital doing research and later for many years at CMMC in the laboratory. After living briefly in Portland, Carol and Penny returned to Auburn, where they raised their two children, Mary Beth, and Thomas. Carol had an active social life, involved with the Woman's Hospital Association at CMMC, the Auburn Art Club, as a wife of a Kora Shriner. Carol was an active bridge player; she enjoyed her time at Thompson Lake and may outdoor activities. Carol was a member of Court Street Baptist Church and participated in many committees there over the years. Carol was an exemplary daughter, sister, wife, mother, aunt. She had many lifelong friends, some of whom she enjoyed getting to see before she passed. Carol and Penny traveled much of the United States with their Shrine group, friends, and family. She was a very kind and caring person, always with a smile. Carol made caring for her parents, husband, children, and grandchildren a priority in life. She will be dearly missed by family, and friends, however, she is now reunited with Penny and family who have gone before her. Carol is survived by her daughter Mary Beth Gagne (Robert) of Auburn, her granddaughters Heather Young (JP) of Lewiston and Rachel (fiancé Colin), and two great-grandchildren, Elise, and Miles Young. Her son Thomas Woodard (Megan) of Florida, their children Parker and Avery Woodard, Chelsea Paine, Alexis (Adrian) Rozas-Cristino, and their children Sage and Lumi. As well as several cousins, nieces, and nephews.
The family would like to thank the staff of the Chapman House, the 3rd floor of St. Mary's Hospital, Dr Jeff Brown, Russell Park, and Androscoggin Hospice for their kind care of Carol.
A Memorial service is planned for the 3rd of June, at Court Street Baptist Church in Auburn. Visitation is from 10am-11am, the service will be at 11am, with a reception in the church to follow.
In lieu of flowers, donations can be made in Carol's memory, to the Kora Shrine Temple at 11 Sabattus St. Lewiston, Maine 04240.