« Obituaries | Wesley "Wes" Wood
Wesley "Wes" Wood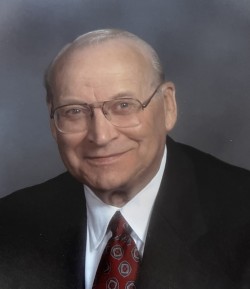 Date of Death: October 20, 2022
Date of Birth: February 19, 1933
Biography:
Harpswell - Wesley Garside Wood passed away Oct. 20 at Auburn Hospice House from Alzheimers. He was 89.  He is survived by his third wife Susan Rayfield Wood and grown children Douglas Scott Wood, of Lemoine, Me. and Patricia
Wood Tolbert, of Virginia and Ohio. He also leaves behind two grandchildren, Jeffrey Parker Tolbert and Michelle Louise Tolbert, living in Mass. and Texas. He was the son of Haydn Starkie Wood and Laura Dann, and was pre-deceased by a sister Barbara Carl.
Wes was born and raised in Upper Darby, Pa. on Feb.19 1933. He graduated from Penn State with a degree in agriculture, served four years in the U.S. Army, then ran his own air conditioning business before joining PA firm Armstrong Engineering from 1977 to 2003. Upon retiring, he moved to Harpswell, Me.
Wes loved dogs, from his former beloved lab/retriever Skeeter to his favorite book "Following Atticus," about a snowy peaks summiting miniature schnauzer in New Hampshire's White Mountains. He used to call his wife whenever a new bird landed on their feeders, or turkeys entered the yard.

He enjoyed bicycle trips, was an avid fly fisherman who tied his own flies, hiked, and bought a sailboat and taught himself to sail. Wes volunteered at the Maine Maritime Museum, in Bath, and at the local community garden. Boundlessly curious, he invented many time-saving devices in his shop, and wrote whimsical E.B. White-style letters to family and  friends. "Wes was unique," said his wife. "We all loved him so much. We will really miss him."