« Obituaries | Chester A. Withers
Chester A. Withers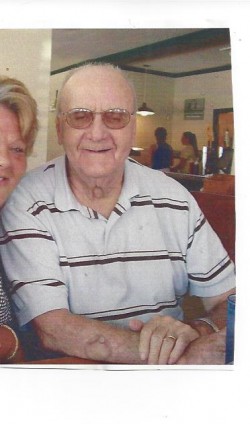 Date of Death: March 11, 2013
Date of Birth: April 8, 1921
Biography:
Chester A. Withers, 91, of Auburn, died on March 11th, 2013 at Maine Veteran's Home.
He was born on April 8th, 1921 in Moscow, the son of George and Harriet (Abbott) Withers.
After high school Chester married Dora 'Betty' Victor. He then went on to serve his country during World War II in the US Army.
He worked in the construction for many years.
Chester was a member of the Mason's, Keystone Lodge, in Solon and was Scottish Rite; also was a member of the Kora Shrine and VFW.
He was predeceased by his beloved wife Betty; daughters Nancy Withers and Barbara Webster. He is survived by his son Bruce Withers and wife Carol of Mechanic Falls, Rick Withers and wife Gloria; daughter Kathy Ray of Newport, NH; 7 grandchildren; 10 great-grandchildren; and 1 great-great-grandchild.
At Chester's request there will not be any services. Donations can be made in his memory to the Maine Veteran's Home, Activity Fund, 477 High Street, S. Paris, 04281. Arrangements by Funeral Alternatives Group, Lewiston.